Betting tips from clubgowi..............
Aug 12, 2017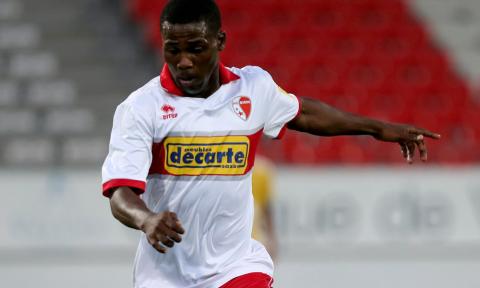 Sample betting tips from the clubgowi newsletter................copy of yesterday's email............. Ebenezer Assifuah, after four goals in three games everyone knows about him, clubgowi readers knew weeks ago !
Next newsletter will be sent @ 09.00 UK time on Saturday.
Today's tennis notes will follow in one minute and LGF previews were sent @ 08.00 UK time this morning.
 
France : Ligue 2:
 
Paris FC- Le Havre
 
I am sticking with the two teams we have focussed on through the opening couple of rounds in Le Havre and Tours, but changing my approach with the latter.
 
Notes on both sets of fixtures are enclosed within last Friday's previews which are reproduced in full at the foot of this email.
 
Le Havre came from behind at the half to beat Auxerre 4-1 with Ebenezer Assifuah scoring twice and Zinedine Ferhat also on the scoresheet ( see both below). They then hosted Nimes in midweek in the Coupe de la Ligue, rested several players including Mateta, Youga and Assifuah, trailed 2-0 , led 4-2 and then conceded twice late, drew 4-4, but won on penalties. That is 11 goals in three starts and a bit sloppy defensively in the last two.
 
Today they travel to face a Paris FC side who have yo-yoed between the second and third tier in recent seasons and in their L2 campaign of 15-16 I spent most of it complaining about how defensive they were and poor entertainment value and most annoyingly, that they had basically given themselves no chance of survival with such a negative mindset. I touched on that in those notes below , when speaking about their opener with Clemont ...............
Clermont opened with a 0-0 draw at Paris FC, draw was about fair, both goalkeepers were in very good form and PFC were a little more offensive minded than we saw from them in 15-16 despite the scoreline and I hope that continues.
 
It was not like PFC were poor relations that season, they had a bigger budget than most and this year they have the 10th biggest, on a par with a couple of teams who have been in the top flight recently and there can be few complaints in that regard. They followed up that draw with a 2-1 away win at Bourg Peronnas, they scored the winner when holding a man advantage, but were quite adventurous with eight corners and 18 attempts on goal, which was about what they managed across ten games two seasons ago and despite back to back home 0-0 draws (also with Brest in midweek in the cup) early signs are that they might have learned their lesson.
 
I am expecting an opening encounter and have to stick with Le Havre, who will return to full strength today.
1.5 units Le Havre -0.25 ball 2.21 asian line/Sportmarket.
 
1.5 units "over" 2.25 goals 2.26 asian line/Sportmarket.
Paris FC : Demarconnay, Aupic - Bong, Delaine, Sidibé, Yohou, Karamoko, Lybohy - Robail, Nomenjanahary, Mandouki, Akichi, Alami, Ech-Chergui, Lopez, Kerrouche - Etshimi, Tchokounte.
Le Havre : Thuram, Sissoko - Bese, Moukoudi, Keita, Coulibaly, Traoré, Bain - Fontaine, Ayasse, Bonnet, Youga, Ferhat, Louiserre - Mateta, Assifuah, Julan, Lia.
Tours lost 2-0 at Clermont. which gives them a 0-5 goal difference and the only way now is up ! As I said below, I do expect them tro improve and they actually beat Niort 4-1 in the cup in midweek, after being four up inside 53 minutes. They named a pretty strong squad for that and I believe that was correct and it has given the starting eleven a chance to find some form and has created competition amongst the group from the couple who came in and we can surely expect a greatly improved league showing today and they will not be sitting back for long, they are an offensive team (16th last season, but no team outside the top six scored more, infact. no one else got to within six of their total) and Reims who are breathing down Le Havre's neck at the top of the table, will need to score 2+ to win this in my opinion.Tours have named a very attack orientated squad for today, it feels like win or bust and goals.
1.5 units "over" 2.5 goals Tours - Reims 2.15 asian line/Sportmarket.
Reims : Carrasso, E. Mendy - Abdelhamid, Cakin, Disasi, Jeanvier, Y. Koné, Metanire - Berthier, Chavalerin, Da Cruz, H. Kamara, Ndom, Diego Rigonato - Chavarria, Kyei, Ngamukol, Siebatcheu.
Premier League : Arsenal- Leicester City
Arsenal won the Community Shield last week, but I felt they were unlucky not to do so inside 90 minutes ..........
Cannot argue with Chelsea as favourites, but feel that odds are a bit lopsided and

Arsenal

are too big today. The Blues have been the Gunners nemesis for many years, but the North London side beat them 3-0 in the home league game at the Emirates and 2-1 in the FA Cup final last season and in this very same fixture two years ago and should not come into today carrying all that old baggage. The pair actually met in Beijing two weeks ago with Chelsea winning 3-0, but I see that as only motivating

Arsenal

today, the Gunners were understrength for that and had played Bayern Munich a few days earlier and were in Australia just three days prior to that and were dealing with all that travel, along with media commintments and intense pre season training. Those that did feature and it was very much a B + team, looked leggy and they should all be on a different level of preparedness today. They like it at Wembley and have won on their last seven visits.
Chelsea will be without Diego Costa (on his on his way out of the club), Eden Hazard and Tiemoue Bakayoko, if chosen, Pedro will play in a protective mask. Arsene Wenger has the option to play Alexis Sanchez, should he wish, the Chilean returned late from the Confederations Cup and has not played in pre season, but hardly needed that to get up to speed, he has trained fully all week and will surely play some part.
 
The Gunners looked the sharper of those two and are primed to hit the ground running in the league, they have played five high profile "friendlies" against quality opposition in the last 3-4 weeks and whilst that is no substitute for competitive fixtures, it should leave them some way ahead of Leicester City in terms of match sharpness and I know that the Foxes have done a lot of very serious training in recent weeks and the danger is that they could come into this a little "leggy" and not see out the 90 minutes quite as well as Arsenal. The hosts will be without Sanchez and Ozil today, but Alexandre Lacazette,  Danny Welbeck and especially Sead Kolasinac all looked sharp at Wembley and I favour a home win, but I am not sure that will come along with a clean sheet. City are 0-7-14 against the Gunners in PL meetings and Arsenal are 6-1-0 on Friday games, but have been poor on opening day in recent campaigns, so a hard fought home win makes a lot of sense and two of the last three h2h meetings at the Emirates have finished 2-1.
1.25 units Arsenal to win and both teams to score 2.80-3.0 general quote.
Good Luck.
Ligue 2 :
(written August 4th)
Le Havre- Auxerre
 
I only went with one game last week (Tours-Le Havre) to get the Ligue 2 campaign rolling and I was pleased with it, not because Le Havre won 3-0 , that was the bonus, but because the content was really on the ball , I will reproduce that in full as I am covering both teams today and have
highlighted
some of what I feel are the more key lines of comment ..........
Tours had Denis Bouanga on a year long loan last season and he was a revelation, scoring 16 goals and adding six assists from midfield, he scored in 8 of their 10 wins, had an assist in another and is going to be very hard to replace, after returning to his parent club and being heavily touted for a big(ish) money move.
 
The hosts have made a habit of starting recent campaigns slowly and won just 1/11 through the opening three months last season, 3/14 in 15-16 and 3/15 in 14-15.
 
Today they will also be without last season's second top scorer Cheick Diarra and, of the six forwards named today, four are inexperienced and/or not really goalscorers and have four goals between them at this level, the two others have good scoring potential for L2, but one of those only signed on Tuesday and the other has had issues and is an out and out winger anyway. It just feels that yet again, Tours will need time.
 
Le

Havre

have been amongst the promotion favourites for the past few years, but tended to also start slow themselves, before finishing strongly , they have placed 8-4-7 in the last three seasons, missing promotion by one goal in 2015-16. Last season felt like it might have been the one, as they finally got that solid start winning their opening two games and being top three at the end of October, but they lost their head coach which was disruptive and as a result,their way. They did win their last two starts by a combined 8-1, which includes a 4-0 win here in Tours on their last away outing, that was only 11 weeks ago and will give them recent and positive memories of the game when they step off the team bus this evening. They sold left back Ferlan Mendy to Lyon for a massive fee and got 20 yo striker Jean-Philippe Mateta from the same club on a season long loan, he is very well thought of and the type who could take Ligue 2 by storm.
I found this interview with his agent from earlier this year, I think it is interesting as it gives you an insight into his young career and how teams like Lyon can perhaps take a longer term approach than their Premier League counterparts ...........
"Despite the short playing time he had with the first team, he is a player who has made a lot of progress. I had the opportunity to see all the matches he made with the reserve and some practice with the pros, and he is a player who has really evolved. On that side, we are very happy, because that was the program we had planned. We know that we signed a long contract (five years), and that the aim was to prepare him at the highest level. For a player coming from National, there are stages to cross. He is in a first stage to continue training him, to teach him the very high level, to allow him to progress physically, to have him train with very great players like Lacazette, Fekir, Valbuena, or Nkoulou who have a great experience. He learns from day to day, we are in this first part of the project. " 
"It must not be forgotten that he had only one year of training in Chateauroux before coming to the OL. It is a player who is not yet "finished", even if I think he would play in other clubs of Ligue 1 because he really has qualities of striker. He has not yet been able to show that he could score goals and was still more ready than that. There was a discrepancy between the expectations of the general public, namely a real lining in Lacazette, and the programming made for the player. " It is a project on the long Term, and President Aulas makes thoughtful investments. If he decides to take Mateta for € 5 million, it is because he knows that the potential is very important. If it takes a year or two before it explodes, it's not a problem.2
"We talk quite regularly about his evolution with the various coaches or Florian Maurice (recruitment manager). They see him evolving, even if he still lacks a few goals in CFA (he scored a goal for the moment) while he has found quite a few times the posts on the last matches. But in the content, there is a real evolution, his matches are good, his buddies of the reserve and the pro team know him better and better. There is a real evolution, when there are specific training strikers we see that he progressed right foot and left foot. It's going well, it just takes a little bit of time to see it at the OL and, why not, by the end of the season whether it's for a full game or half an hour of play. "
HAC have also brought in a number of other talented players and have a good record with "raw" or players who have not quite fulfilled their potential elsewhere and a famed youth set up, I especially like the signing of defensive midfielder Amos Youga from Gazelec, who lost 7/15 when he was absent last season, "just" 6/23 when he played. Early last season I spoke about Zinedine Ferhat...............
His absence will have got the attention of

Le

Havre

new signing Algerian winger

Zinedine

Ferhat

, who could go down the same route as HAC's last "name" Algerian signing Rihad Mahrez,

Ferhat

has every trick in the book and then some and there will be plenty of entertainment in watching him this season.
He took time to gel, had one assist from first first 18 appearances, but gradually got up to speed and had three goals and six assists from the end of January and we can expect plenty from him this season, now that he is settled. He scored the opener in that 4-0 win here and then laid on the second and will surely be looking forward to today. We can also expect to see far far more from striker Ebenezer Assifuah, who was prolific for the Ghana U20 team (top scorer at the U20 World Cup in Turkey), he played very little after his arrival last January (confidence needed rebuilding), just 87 minutes until the last two games, but he scored in both of those and we can expect far bigger things from the still only 24yo (''I decided to move because I want to play every week, Le Havre is a big club and their vision is big and I love that mentally.'') . Le Havre will miss Mendy of course, but look more solid defensively elsewhere, especially in the central spine and have two potentially free scoring strikers and a magician loading the gun, definitely a team to watch this season and lots to learn from their opening 3-4 games.
 
So much good stuff in one preview, Assifuah scored after nine minutes, Ferhat had "three" assists (officially two, but I just do not understand why he was not given one for the third !) and they also had a "good" goal disallowed.Tours were largely tootless with just two attempts on target in the 90 minutes, as opposed to nine for HAC. All in all, a very pleasing start to what might well be a thrilling campaign for Le Havre, but we have been here before with them and what they now need to do, is build on that, they struggled at home last season, but were 5-2-1 here from February onwards and will be looking to continue that form and this is a very important game for them.
I love the match videos on their website, they are always edited to give you some background "fillers", this is something we have spoken of before with HAC, the players looked incredibly relaxed arriving at Tours and did some intense warm up routines , some of which I had not seen before. Team spirit was great and all goals, including one deep in injury time, were celebrated en masse and that is always a good sign and not as common as you might think. This is a team/squad absolutely packed full of character / characters and confidence, look at this video from 04:50 onwards to get some idea. Everyone gets to see match highlights, you can learn more sometimes from what is going on around the game and that is why it is important to watch live events where possible. Anyway, Assifuah looks sharp, Ferhat might be the key playmaker in the division, Mateta is HUGE and will be a real handful, Youga a midfield boss and they were not the only players to impress !
 
Auxerre started with a 1-0 defeat of Lens on Monday, which was a great result for them, but it means they are dealing with that quick turnaround, which we speak about so often and when you also factor in that teams are searching for match fitness, it might well prove extra tough to handle over the opening weeks.
 
I do not want to say too much about too many teams at present, or take hard and fast positions on them until I have seen them play a couple of times, Le Havre I feel are good and have hopefully, made that clear. Tours I expect to struggle early (see above) probably improve later and I want to continue to back/oppose them respectively and it is really only about those two today, we will know more of their opponents come 21.00 this evening.
 
Clermont opened with a 0-0 draw at
Paris
FC
, draw was about fair, both goalkeepers were in very good form and PFC were a little more offensive minded than we saw from them in 15-16 despite the scoreline and I hope that continues. Clermont started and finished strongly, they are missing top scorer Remy Dugimont, but look to have upgraded defensively with some really good loanees and they will be difficult to score against and anyway, this is more about Tours today. 
Le Havre : Thuram, Sissoko, Coulibaly, Ozdemir, Bese, Moukoudi, Bain, Traoré, Bonnet, Ayasse, Fontaine, Ferhat, Louiserre, Youga, Assifuah, Mateta, Julan, Lia.
Auxerre : Adeoti, Ayé, Boucher, Diallo, Fumu Tamuzo, Goujon, Ndicka, Obraniak, Philippoteaux, Polomat, Sakhi, P.Sané, Y.Sané, Sangaré, Tacalfred, Touré, Westberg, Yattara, Youssouf.
Clermont : Bernardoni, Jeannin, Centonze, Fontaine, Gavory, Kavdanski, Laporte, Phojo, Douline, Espinosa, Iglesias, N'Diaye, Pereira Lage, Perez, Rajot, Ajorque, Doré, Honorat
Tours : Coudert, Kacou, Cissé, Gradit, Louvion, Miguel, Nanizayamo, Bayard, Belkebla, Bergougnoux, Makhedjouf, Ndoye, Raveloson, Bakar, Bouazza, Tall, Tandia
We don't just sell football betting tips, as you can see there is an extensive analysis behind our asian handicap selections. Subscribing to our sports betting advice service need not break the bank. Learn more by visiting our subscriptions page.
Don't be selfish, share the betting tips