Brazil: Serie A betting tip: Palmeiras- Cruzeiro
Oct 30, 2017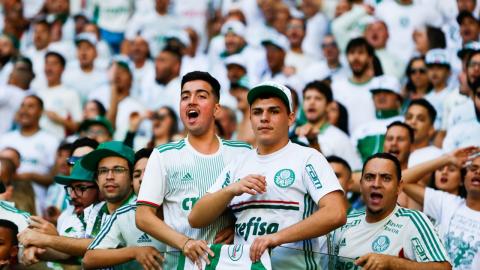 Brazil: Serie A: Palmeiras- Cruzeiro
Ahead of Palmeiras' last home game my notes included .........
Palmeiras

can go level on points with Gremio in second with the win and to within 9 of leaders Corinthians, as I hope I highlighted in some of the stats I discussed ahead of the Chapecoense game yesterday,

Palmeiras

feature quite heavily amongst the highest performers. They are defending champions, have still to play the current top two and have collected four more points than the runaway leaders over the last 15 starts and played as well as any team in Brazil since early July.
At around that time (June 17th) I spoke about the issues they had up to that point, mainly on the road ...........
Palmeiras

are a dire 0-0-4 on the road without scoring, the defending champions have scored seven in three home starts, so have goals in them still and have played better than bare away form suggests. It has been a tough start, visits to four teams currently top 7, but they have played increasingly well and been the dominant team in the last two, including at Santos last time out where they were incredibly unlucky. It was perhaps the best road performance I have seen this season, certainly from a team who did not win, some really slick passing and build up play and they certainly didn't look a team low on confidence, they were denied by the woodwork when 0-0 and if that had gone in, I suspect the floodgates might have opened, even on the road. They had 16 attempts and several big opportunities, what I especially liked for today, is that they attacked a lot down both flanks, but especially the left with Guerra and Guedes (who I like and who found his way over the right frequently) causing all kinds of problems, with Bahia missing their right back today and that has been a problem area for them, it feels time for the breakthrough win. It is not often we back road teams in Brazil , but we have two today and

Palmeiras

look really good value.
They have to secure a Copa Libertadores place, but should do that with ease, but really need to try and win 4/5 in a row and give themselves a title chance and they are fully capable of that.
They won that 2-0 taking the lead as we approached the final 15 minutes of the first half, more of which later, they then followed up with a fine road win at fellow top 4 side Gremio, where they dominated all key stats and are in form and brinmful of confidence right now. If they needed a further boost however , they got it over the weekend when Santos lost to Sao Paulo and Corinithians to Ponte Preta. Those results blew open the title race and Palmeiras can move to within three of their big rival should they win tonight, not only that, but they travel across town to play Corinthians on Sunday and know that if they follow up there, they will go top for the first time since the final day of last season . It is a massive incentive and even to go into the weekend fixture with a chance of leading with six rounds to play would be huge, given that they trailed by 16 points in mid September !
Cruzeiro are also highly rated and stats indicate that along with Palmeiras and Flamengo that they are the three best teams in Brazil, but they have already secured a Copa Libertadores group stage place, courtesy of winning the Copa do Brasil and their motivation has to be questioned as they would still be nine off the pace if they win. Even if they feel they have a chance and want to keep the dream alive, however slim those hopes might be, it should ensure they played only for three points this eveing which will surely suit us and the hosts. The two played out a 3-3 draw here at the end of June in the cup, Cruzeiro stole the tie early by racing into a 3-0 lead, after that it was all Palmeiras and they could/should have scored five, that might mean that the hosts are a little wary early, but that is usually their way in any case and 15 of 24 home goals in the league have come in the first half and in all starts (home and away) they have scored 20/46 between the 31st and 45th minute of games, so end the first half VERY strongly.Cruzeiro have conceded 10 of 15 road goals before the break, all after the 16th minute and looking for Palmeiras to take charge of this after perhaps a cautious opening 15 minutes is definitely an option. Also Palmeiras like the insurance of that second goal and 9 of 16 wins this season have come by exactly 2, including their last three and 7/10. That (winning by exactly 2) is also not without interest at odds of 5.0, but "officially" I will go with.............
1.5 units Palmeiras -0.75 ball 2.03 asian line/Sportmarket.
Good Luck.
We don't just sell football betting tips, as you can see there is an extensive analysis behind our asian handicap selections. Subscribing to our sports betting advice service need not break the bank. Learn more by visiting our subscriptions page.
Don't be selfish, share the betting tips