France: Ligue 2 betting tip: Olympique Nimes- BEBP
Nov 24, 2017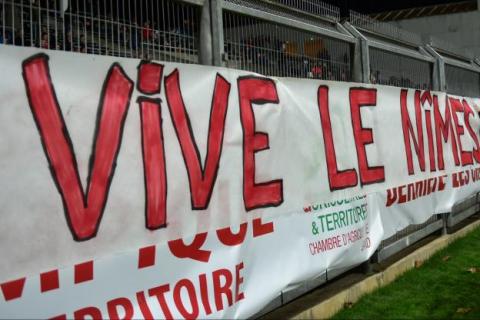 France: Ligue 2: Olympique Nimes- BEBP
I skipped the Nimes game last week.............
Many of you will have noticed that Nimes were not included in today's previews which would be seen as most odd, as I have made no secret of how highly I rate them..........the best team in L2, possibly by some way and they have landed a series of double bets for us , including in each of their last four starts, winning those by a combined 14-3 and in truth, the margin(s) should have been more emphatic. However, today they are again without the oft discussed Sofiane Alakouch and whilst they have a good record in the talented young right back's absence, also sidelined are Teji Savanier and Renaud Ripart. That might not be enough to stop them and personally , I hope it is not, but it is sufficient for any value to be lessened considerably,  I have to pass on the game and felt I should explain why .
They lost that 2-1, but were without three key players, faced a team who were in great form ( 13 points now from a possible 15) and still dominated periods , creating the better chances and "hitting the woodwork twice" which are words myself and the head coach of ON are going to have engraved on our tombstone's ! I did see plenty from Sochaux which I liked, which I will save for the second preview of the day, but again, so much to admire from Nimes and they get Teji Savanier back today and he will take his place in central midfield and I have no desire to skip their game today. My notes on their last home start, a 4-1 defeat of
Quevilly-Rouen are reproduced in full at the foot of this email and should hopefully explain why I am so loath to oppose/miss out on ON.
Today they host
Bourg Peronnas who are fun to watch, as I hopefully explained before they hosted Valenciennes last Friday ..........
BEBP: Deneuve, Callamand, Martin, Ponroy, Digbeu, Paye, Faivre, N'Simba, Nirlo, Martins Pereira, Gamiette, Dimitriou, Hoggas, Heinry, Boussaha, Sarr, Merdji, Begue.
Good Luck.
Olympique

Nimes

- Quevilly-Rouen Metropole
I previewed Quevilly-Rouen Metropole's trip to Niort just before the international break where my notes included .............
Today they (Niort) host newly promoted

Quevilly

-

Rouen

who were playing in the fourth tier two seasons ago, but have achieved back to back promotions, their crowds (6-700) and budget (it is the lowest in L2 by some way) have not kept pace and it feels like the rapid improvement has finally caught up with them, they have one win, but six defeats and sit in the relegation playoff spot, already five points adrift of the team immediately above them in the table. They have conceded at least two goals in 4 of their last 5 starts and are used to winning and not sitting back and almost all their games this season have been open and could have produced more goals than the 2.67 pg they have actually averaged. They have had goalkeeper Joan Hartock to thank for keeping the scoreline down in several matches, they do not look up to L2 standard and the two teams below them have far more improvement in them and potential and this is going to be an incredible tough and long season for

QRM

.
QRM took the lead and again hit the woodwork, but found a way to lose 2-1, they are creating chances, but are at a low ebb confidence wise and not much is going their way.Last week I again opposed them in their derby game with Le Havre which they hosted and was pretty much their biggest game of the season, they lost 2-0. Their numbers were ok, but misleading as they were two down with a half still to play and it was job done for the visitor.
QRM are now 5 points adrift of the relegation playoff spot, ten from safety and look absolutely booked for bottom 2 and I would almost never say that at this stage of the season, only saving grace is that right now you would have to say the same about Tours, so maybe only one team has to go into freefall, but I would still see Tours as having the more potential of the bottom two over the remaining 25 games, although we have see precious little of it to date. Now QRM make the very long 800km trip down to
Nimes
to play what I think might be the best team in Ligue 2 and one we "never" oppose and have been championing for 15 months.
Ahead of a trip to Valenciennes last Saturday my notes read........
Last week I looked at

Nimes

-Brest .............
There is a very lengthy preview of

Nimes

-Orleans from last week reproduced in full below the "good luck" sign off  (edit: see October 20th email) which includes a lot of background information.
Nimes

landed both bets and also one of the "correct scores" winning 4-1. The win took them back up to 6th, two points behind today's visitors Brest, who are currently 3rd. The hosts have named a very offensive looking squad again today and have Téji Savanier returning and they will not be sitting back for long, their games are averaging 2.91 goals and I don't see as likely to reduce that by much now that they are back to winning ways.
Brest are far more adventurous under former Troyes boss Jean-Marc Furlan and he found an extra 24 goals in them last season (0.63 per game), his first in charge and they have ten in five road games (four wins) already in this campaign. They are not a team I have backed, or opposed much, their negative approach pre Furlan was/is not to my taste, but ahead of their last away start, to struggling Tours I wrote ............
Tours are 0-2-7 through nine starts, eight points from safety and have been very poor at home where they are pointless and have a 1-11 goal difference. There are some notes on them in the preview of their recent trip to Paris FC at the foot of this email (edit: see September 29th email) and I want to highlight part of those ........."Tours have a very young team, average age for their last game was 22.1 years and 7 were younger than that, it is hardly suprising as head coach Gilbert Zoonekynd previously worked with their widly succesful U19 team before stepping up late last season."
Confidence is always a wonderful thing, but usually taken for granted when you have it and desperately hard to find when you don't and that goes double for youngsters. I will probably follow Tours for a few weeks when and if they pick up, but do not want to touch them and feel they should be opposed, in the meantime.

Brest

are not my favourite team, but they are in great form, with 16 points from a possible 18 and three clean sheets in their last four starts. Today they will be without right wing back Julien Faussurier, who has started all 47 league games since arriving from Sochaux, not sure how that will affect SB, but it is certainly not ideal. However, this is more about opposing Tours for now, they are without a win in 11, losing nine, have not kept a clean sheet in that sequence , conceding at the rate of 2.36 per game and scored just 4 in nine, other than the fact that they are giving youngsters game time, it is impossible to take any other positives out of that sequence of results.
Given Tours record it is hard to believe we got 2.80 + for Brest who won 2-1. I cannot however, have them as a better team than

Nimes

and SB29 dropped two points last week at home to Auxerre who are poor travellers and, for the fourth game running I felt that they had ridden their luck a little and suspect they will need to do so again to get something from this, but we do know that ON will give up chances. Brest are without Jessy Pi ( 3.14159 for short to his team mates, so will be in trouble around the centre circle .....sorry !) who, of course, is a midfielder, he has missed just 11 minutes of league and cup action this season and has scored in 3 of their 6 wins, including two on the road. Think goals are very likely , both to score and

Nimes

to win, 3-1 ?
Nimes actually won 4-0 which was still ideal, they ended up playing nine men, but were already leading for 37 minutes before the first dismissal and two ahead before the second. They had 26 attempts, 62% from inside the box and had 31crosses, which was a big route to goal for them last season, which we discussed at length at the time.

They have had a full eight days to rest and prepare for this, Valenciennes played at Ligue 1 Lille on Wednesday in the Coupe de la Ligue, where they lost in a penalty shootout. It is a year to the day since these two met here last season with

Nimes

coming from behind to win 3-2 and I can see this playing out similarly. Home defence looks a little unbalanced with players out of their natural position, they have conceded 2+ goals in 6/8 starts and I will be surprised if they do not do so again this afternoon
.
Nimes
won 2-1, we landed the win bet and half of the "over", we were robbed ! It might have seemed hard earned and I suppose it was, as they did not retake the lead until the 81st minute, but they had already hit the woodwork twice long before that and could easily have been out of sight by the last quarter of the contest.
Nimes : Sourzac, Valette - Boscagli, Briançon, Cadamuro, Harek, Paquiez - Bobichon, Del Castillo, Savanier, Valdivia, Valls - Alioui, Bozok, Depres, Ripart, Thioub, Vlachodimos.
QRM: Delaunay, Gounet, Mendy, Gobron, Vignaud, Salze, Sery, Lefort, Tie-Bi, Oliveira, Rogie, Basque, Taufflieb, Madiani, Ramon, Barthelemy, Boujedra, Gakpa, Plumain, Caddy, Duhamel.
We don't just sell football betting tips, as you can see there is an extensive analysis behind our asian handicap selections. Subscribing to our sports betting advice service need not break the bank. Learn more by visiting our subscriptions page.
Don't be selfish, share the betting tips