La Liga betting tip: Atletico Madrid- Real Sociedad
Apr 04, 2017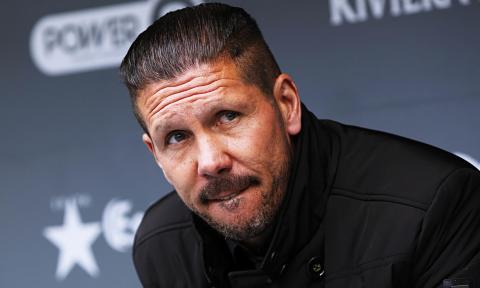 La Liga: Atletico Madrid- Real Sociedad
Real Sociedad made a good stab at top 4 this season and actually edged ahead of Atletico briefly around the half way mark, but Atleti have come on strong, as we always expected they would and Real's form has nosedived, they now sit nine points adrift of the home side and you would expect that Champions League dreams have evaporated. If that is not the case, they will have to gamble for the win this evening and that would suit us very well.
 
Atletico are now up to third, level with Sevilla on points and holding on to that will be their La Liga ambition now. A three point edge will be hugely valuable ,as Sevilla travel to Barcelona tomorrow and Atleti play the Madrid derby away to Real at the weekend, so the win today could take the pressure off that and should as a minimum, preserve the status quo.
 
The hosts look pretty much back to their best at present, ahead of a trip to Leverkusen in the Champions League in late February I spoke about how they tried to play a little differently this season, a little more offensive minded and they were perhaps more "fun", but they lost four times before Christmas and battling/chasing Barce and Real , that is about three too many ! There was a clear shift back more to the old Atleti around the turn of the year ............
My preview of an

Atletico

group stage game are reproduced at the foot of this email and contain notes on two games played with Bayern Munich in the last ten months. They have actually met Bayern four times in that time frame, had the better of three and only lost the last, once the group stage was already won, they beat Barcelona over two legs in the quarter finals and only lost out to Real

Madrid

on penalties in the final. They were also a minute away from beating Real in the 2014 final and a very strong case could be made for them being the best team in two of the last three runnings of the Champions League and a win in the premier club competition being overdue.
In Europe this season they have looked at their defensive best, conceding a competition (joint) low two goals and we have spoken of them often as the most disciplined side and best defensive unit in world football and one who would run through a brick wall for head coach Diego Simeone . Simeone is known for his uncompromising nature, however, he did change things around a little domestically this season and we saw a more adventurous approach from his team. It has not been an unqualified success and whilst

Atletico

have scored 9 goals more than at this same stage last season, they have conceded eight more and have six points less. That might not sound like a huge difference, but in La Liga when Real and Barce lose so infrequently and with Sevilla having upped their game, it has left

Atletico

playing catch up for much of this campaign and they are still four points adrift of third, a (minimum) place they would now see as theirs by right.
We have seen a shift back more to their old style since the turn of the year and the hard, high and especially wide press that was such a hallmark of their game and which has worked so well in Europe. They will be desperate to finish top 3 in La Liga and earn that automatic CL group stage place, but 4th looks safe and is a fall back option and in reality, this season is now solely about the Champions League and maybe, their league position has done them a favour and they can go all the way this time round.

They would have been happy with the draw, having got the better of Bayern twice, there is no real need to fear Leverkusen who were 28 points behind the Bavarian giants last season and already trail them by 20 after 21 games this time round. Bayer have won just 9 of those Bundesliga games and have been treading mid table water all season long in what, it has to be said, is not a league with great depth. They finished above Tottenham and CSKA Moscow to qualify behind Monaco, but a lot went their way there, especially the draw and a Spurs team who were defensively in a mess and struggling with Wembley as a home venue.
These two met at the same stage two seasons ago and Bayer won the home leg 1-0, but Atletico were forced into major changes early, with two players leaving the field before the break with injuries and they played the final 15-20 minutes with ten men. I would consider the German side fortunate winners that night in terms of all the luck going their way and that was their sole win in nine CL knockout games and I have to favour the very motivated visitor for whom this is a season defining game and Atleti would have learned a lot from that last visit.
 
They are 9-3-1 in the league since the mini winter break and have coasted into the last eight of the Champions League, they are more like their old selves defensively, but have retained a little of that increased offensive threat and that feels like a good trade off. Atletico have a solid record in this series, but lost the reverse meeting 2-0 back in November, when Atleti were not Atleti, that will not have been forgotten and revenge is likely to be served up in a large helping this evening. Hosts have won the last three h2h meetings here by a combined 9-0, all by 2+ and I expect that trend to continue.
1.25 units Atletico Madrid -1.5 goals 2.23 asain line/Sportmarket.
Good Luck.
We don't just sell football betting tips, as you can see there is an extensive analysis behind our asian handicap selections. Subscribing to our sports betting advice service need not break the bank. Learn more by visiting our subscriptions page.
Don't be selfish, share the betting tips