La Liga betting tip: Real Sociedad- Sevilla
Dec 20, 2017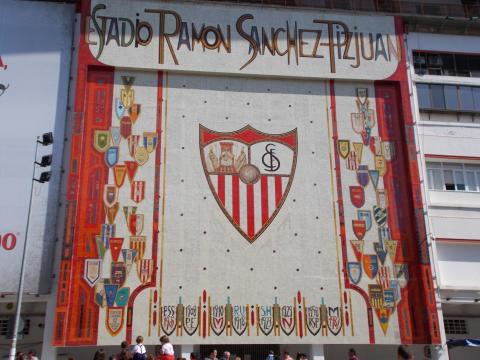 La Liga: Real Sociedad- Sevilla
Until Sevilla host Manchester United in their knockout stage Champions League game at the end of February, I doubt that they will play a more important game. It is vital that they stay in touch with the top four and in reality, that means Valencia. They were given a lifeline after a couple of disappointing results ( 5-0 loss away to Real Madrid and 0-0 at home to Levante), with Los Che losing at Eibar on Saturday. That leaves Sevilla five points off the pace, but all three here will put Valencia under real pressure for their derby game with Villarreal, who are themselves not totally out of the mix, which is played on Saturday. That is Super Derby day in Spain with Real-Barce, Depor-Celta and Valencia-Villa and that will cause arguments in homes across not just Spain, but Europe, with family holiday demands on football fans !
I guess the loss at the Bernabeu was a shock and major wake up call for Los Rojiblancos, especially as they were five down at the break ! Given that, in the bigger scheme of things, the stalemate with Levante was probably not a terrible result, it steadied things down and got them back to doing the defensive basics well.
Sociedad have themselves not scored in two, or won in six and they have looked a little weary recently, they have played six games more than at this stage 12 months ago and are not as used to playing in Europe as many of the bigger clubs and trips to St Petersburg, Trondheim and Skopje have also seen them clock up an additional 18-20,000 km of air travel and will have taken a toll.
Right now it feels like Sevilla are a little too good, have too much energy and more at stake than Real, both teams will be looking forward to a break, but the hosts look like they crave it. They are coming off their big derby game with Athletic where neither set of supporters were left happy by a turgid showing, in what has been described as the worst derby of recent times, between two teams lacking desire and "without football" according to Marca, who finished their report by saying about both teams "
when you do not want to win the best is not to lose !"
Sevilla will have to rotate their backline with
Clement Lenglet picking up his fifth yellow card versus Levante, head coach
Eduardo Berizzo has already named his defence.............
Corchia, Geis, Kjaer and Escudero, with Kjaer switching position to better accomodate the changes. The coach spoke about ambitions for the season and that is most definitely top 4 and he spoke at some length about the second half of the campaign and how the fixtures favoured his team and so I took a look ...............
They play the top six

all at home

in New Year, Valencia play all but Real Madrid on the road and the 3.50 + for Sevilla and 1.25 Valencia to finish top 4 feels far too big a discrepancy given that and if you want a long term position in Spain, that is one I feel is overpriced and will provide plenty of excitement for your money.
For Real, left back Kevin Rodrigues who was expected to return picked up a knock in training yesterday and is not available, they are 0-1-3 in his absence (5-4-3 when he plays, the three losses v top 4 teams). As a team they have underperformed against the stronger teams and generally without the full back. This has been a problem position, Alberto de la Bella was brought in and they appeared to quickly realise he was not the answer and Rodrigues was drafted from the B team and has played well, de la Bella will , I assume , have to cover today, Real conceded 3 in an hour at Zenit last week with him on the left and seven in his four league outings. Whomever plays on the right for Sevilla (Pablo Sarabia ?) will fancy this, Sarabia scored here last year in a 3-0 win, positive memories for all who played, especially Ben Yedder with a hat-trick and assist.
1.5 units Sevilla level ball 2.33 asian line/Sportmarket.
Real: Rulli, T. Ramírez, Odriozola, Aritz, Llorente R., Raúl Navas, I. Martínez, De la Bella, Zubeldia, Illarra, Zurutuza, Canales, X. Prieto, Carlos V., Januzaj, Oyarzabal, Juanmi, Bautista , Willian J.
Sevilla: Sergio Rico, David Soria, Corchia, Kjaer, Geis, Escudero, Carole, Pizarro, Krohn-Dehli, Banega, Ganso, Borja Lasso, Franco Vázquez, Jesús Navas, Nolito, Sarabia, Correa, Ben Yedder , Muriel.
I have previewed two games today, but it is not all, or even mostly, about that, Sevilla, given their second half of the season fixtures and ambition and xxxxxxxx, who are full of potential and further improvement, are very much teams we are likely to return to and who are worthy of consideration for other markets and in the future.
Good Luck.
We don't just sell football betting tips, as you can see there is an extensive analysis behind our asian handicap selections. Subscribing to our sports betting advice service need not break the bank. Learn more by visiting our subscriptions page.
Don't be selfish, share the betting tips