Le Grand Foot update.........................LGF
Jan 05, 2017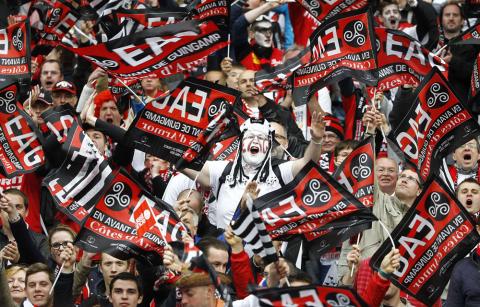 Le Grand Foot or LGF if you prefer, is a quality long established website, which focus on Ligue 1 football from France, previewing all 380 top flight matches in depth each season and also supplying other related exclusive information.
It has been owned by clubgowi for several seasons and from September, the only place that you can read all the LGF previews, is via the clubgowi newsletter. I spoke about this earlier in the year.
This has been wildly successful and for 2016-17 LGF numbers are ...........132 bets, making a profit of 19.53 units, at a ROI of 14.80 %, average number of bets per round is 6.95 (min 5 , max 8), it has been in profit since Week 2, so very constant results/returns and all Ligue 1 games are previewed.
There is a sample recent preview below, St Etienne won 1-0, but more important is the quality of the preview. If you bet Ligue 1 football you really ought to be reading these before making up your mind about what to play, they are both informative and educational.
The good news is that while LGF is free to clubgowi subscribers for the current season, it is now available to buy as a stand alone product and it is unbelievably cheap (!), just 99€ for ten rounds of Ligue 1 football. You can subscribe via this link and also view all the clubgowi options on the "join now " tab.
Good Luck.
ST ETIENNE – GUINGAMP
ST ETIENNE
St Etienne put up a very lively performance in midweek, away at Anderlecht. They were 2-0 down at half time, but were playing some really good football, and also looked very confident. They scored 3 goals in second half, won the game and topped the group.
It was the first time this season St Etienne scored 3 goals in an away game. Striker Soderlund and winger Monnet Paquet finally found the net again (their last goals were scored in late November). They are actually substitutes in most games, but we may see them in the lineup this round, given the good form.
St Etienne's primary problem is the lack of efficiency in the attacking phase. They hold possession, but don't create that many chances, even if they have some really talented players. Hopefully there will be an improvement with Soderlund in good form, even if he will play for only half an hour.
GUINGAMP
Guingamp mildly dominated the game against Nantes last week, and fully deserved to win all points (finished 2-0). Nantes lacked confidence and didn't put up much of an opposition, so it wasn't very difficult for Guingamp to achieve their objective.
Guingamp's problem is that they don't keep much possession in midfield. While they are 5th in the normal Ligue1 table, they are only 15th when it comes to possession. They can be pretty effective, but in the end it's not rocket science to annihilate Guingamp, seeing they build mostly down the flanks, through long balls.
Midfielder Sankoh suffered an injury and will miss this game, same as forward Privat.
BETTING
There shouldn't be any doubts that St Etienne will control the game and impose the rhythm. Hopefully they will be more pragmatic in the attacking phase, especially since confidence increased following the Europa League victory.
ST ETIENNE -0.5 at 2.07
Saint-Etienne
: Ruffier, Moulin – Théophile-Catherine, Polomat, Lacroix, Mbengue, .FPogba, L.Perrin, Malcuit – Pajot, Dabo, Saivet, Veretout, Selnaes – Tannane, Hamouma, Monnet-Paquet, Soderlund, Beric, Nordin.
Guingamp
: Johnsson, Salin – Martins Pereira, Ikoko, Marçal, B.Angoua, Sorbon, Kerbrat – Didot, Giresse, Deaux, M.Diallo, Blas – De Pauw, Coco, A.Mendy, Salibur, Briand.
We don't just sell football betting tips, as you can see there is an extensive analysis behind our asian handicap selections. Subscribing to our sports betting advice service need not break the bank. Learn more by visiting our subscriptions page.
Don't be selfish, share the betting tips