Ligue 2 betting tip: Chamois Niortais - US Orleans
Feb 09, 2018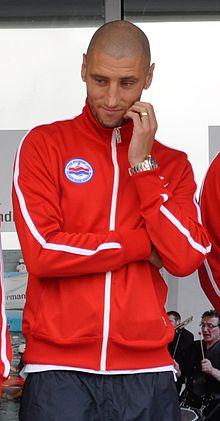 Ligue 2: Chamois Niortais - US Orleans
Niort won at Paris FC last week and that highlights what they are capable of when things click, ahead of that I spoke about their unpredictable nature .........
Niort are a funny team, whenever I watch them closely, they always seem better than the league table suggests, or the general consensus implies, but they have finished bottom half in 5/6 seasons and that is where we have to rank them and they have shipped a few goals recently giving up nine in their last three and all coming against teams in the bottom nine.
Good win, but they rode their luck at times ( see PFC notes below),are wildly inconsistent and have not won two in a row since September and there is no guarantee they will show up today, especially sans Laurent Agouazi (pcitured). The veteran defensive midfielder was sent off late in the capital and will be sorely missed. He has sat out six league and cup games this season and Tours have lost five conceding 14 goals and two of those defeats came against basement club Tours, last season he missed 12 Ligue 2 games (just two wins). They are certainly less likely to win in his absence and it has to be said, with any line up following a win.
 
Orleans have been the archetypal home team and really struggled on the road last season and were fortunate to avoid relegation , especially as they are also battling a very low budget. However, they have won three away starts this season , they were 0-2-8 entering February in road games 12 months ago, but it was this month they started to pick up, going 4-2-2 ( just 4 wins in 22 starts prior to that) to haul themselves out of the drop zone. After a poor run to start the New Year they have won their last two and look to be on course for another solid late winter haul.
 
I was not going to think about opposing Niort today, but the loss of Agouazi was the game changer and the wins for Orleans over highflying Le Havre and away to in form Lens, where they played 50+ minutes with and scored the winner with ten men, were incredibly impressive, so I can chance a little.
1.25 units Orleans level ball 2.33 asian line/Sportmarket.
Niort : Olliero, Bouchard - Brison, Z. Diabaté, Choplin, Batisse, Paro, Sans, Rivieyran, Bourhane, A. Dembélé, Roye, Lebeau, Leautey, Djigla, Vion, Dona Ndoh, Koyalipou.
Orléans : Renault, Gallon - Monfray, Chemin, Cambon, Furtado, Seidou - Poha, N'Goma, Demoncy, Ligoule, Bouby, Benkaïd - Perrin, Nabab, Cissokho, Ben Othman, Le Tallec.
Good Luck.
We don't just sell football betting tips, as you can see there is an extensive analysis behind our asian handicap selections. Subscribing to our sports betting advice service need not break the bank. Learn more by visiting our subscriptions page.
Don't be selfish, share the betting tips