MLS betting tip: Vancouver Whitecaps - FC Dallas
Jun 17, 2017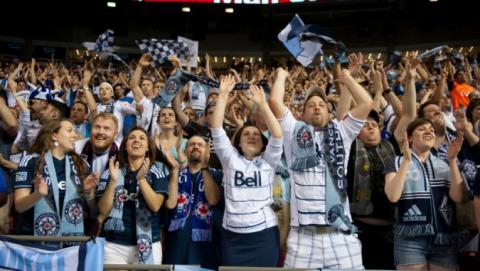 MLS: Vancouver Whitecaps - FC Dallas
Vancouver Whitecaps have had a 14 day break to bask in the warm glow of their 3-1 win over Atlanta United, ahead of which I wrote .......
I like the home here, but feel that the "over" offers marginally better value. I previewed Whitecaps last home start, a shock loss to struggling DC United.....
One of those recent wins for Philadelphia Union was a 4-0 romp away to DC United who are in a mess right now, they have had a terrible May , made worse as three home games promised much, but they lost each, failed to score a single goal and conceded six, giving Chicago, Philly and Montreal their first away wins of the campiagn. We could try and find a glimmer of hope, but the truth is they were dominated in every stat category in the last two and only managed five attempts on target (giving up 21) across all three. They will probably be happier on the road after that, but confidence is low and a trip all the way West and across three time zones is not usually where you will be looking for an upturn in fortune. 

Vancouver

Whitecaps are coming off a 2-0 win over Sporting KC where I was very impressed, they also hit the  woodwork and the visiting keeper made several big stops, VW had a four game road trip prior to that, won 2 of the last 3 and with this the second of now a four game home stretch, they have the opportunity to really kick on and put some pressure on the top clubs in the West, Sporting actually lead the way, with a six point edge over Whitecaps, but

Vancouver

have two games in hand.
Whitecaps made their defence the priority in the off season, with only Timbers conceding more goals last season, I have seen real improvement in this area with the hosts being prepared to give up more of the ball, but keeping a better shape and giving the backline additional protection and this is all starting to kick in and produce results and it will be difficult for shot shy DCU to cause too much damage.
 
Not much went the way of

Vancouver

in a 1-0 loss and I spoke about that ahead of DC's midweek start........... not sure how they won that, with

Vancouver

"winning" the attempts count 22-7, inside the box numbers 13-3 and the hosts hitting the woodwork three times !
A similar showing will result in goals for them, probably a couple and we know that Atlanta United play an open style and do not go anywhere looking to shut up shop. The new MLS team have seen 12 starts average 3.67 goals and they are top scorers in the league, despite winning just 5 times. They have failed to score in just one MLS start and both teams have been on the scoresheet in ten and that feels like the minimum we will see this evening.
 
Whitecaps might improve defensively given that they have had two weeks to work on those issues, but it has to be said that Atlanta had chances and in addition to their goal, were denied by the woodwork twice and there should be opportunities for FCD who have far more offensive threat than we have seen recently, the 6-2 win over RSL aside , but that big win highlights what they are capable of when it all clicks. It is feast or famine for the visitors and after creating a lot of (missed) chances it all came good against RSL..........
Such is the way of things, that Real were made to pay for all those missed chances and FCD were on target with 79% of attempts, also having the same number inside the box , hit the woodwork too and looked a huge offensive threat. Roland Lamah scored three and both he and single goal scorer Tesho Akindele, were taken off around the hour mark with future games in mind.
 
I think we might see the old FCD in coming weeks and we will be closely monitoring them, head coach Oscar Pareja has a pretty full squad to select from now after star player Mauro Diaz and Ryan Hollingshead got their first 90 minutes of the season, along with Matt Hedges returning from international duty in the midweek US Open Cup tie.
 
Hard to overemphasize how key Diaz is to Dallas, but in post season play last year I tried to .............
Mauro Diaz is out for the season, a massive loss for Dallas, they have failed to score in five of their last six starts when he has played 45 minutes or less, including that five goal defeat in Seattle and have won just twice since May without a goal or assist from him, that's 20 starts and remember, we are talking about the "best" team in MLS football, with 17 wins and 50 goals. I have just stopped typing these notes to watch highlights of a couple of games without Diaz and Dallas are just not the same team and, even with him in the team, Seattle have picked up more points pg than FCD since that thumping here. I have almost convinced myself that there is value in Sounders as I am not sure where the Dallas goals are going to come from, if you want to bet something in the late game, it feels like it should be Seattle, but I will "officially" pass.
Unheralded Hollingshead is very versatile can play in any position on either flanks and both should be near a full start tonight and improve FCD considerably.  It still have to be home or "over", but I feel sticking with goals is the better option, in case FCD have a going day and/or Diaz produces some magic.
1.5 units "over" 2.5 goals 2.08 asian line/Sportmarket.
Good Luck.
We don't just sell football betting tips, as you can see there is an extensive analysis behind our asian handicap selections. Subscribing to our sports betting advice service need not break the bank. Learn more by visiting our subscriptions page.
Don't be selfish, share the betting tips