NFL betting tip: Denver Broncos @ Kansas City Chiefs
Oct 30, 2017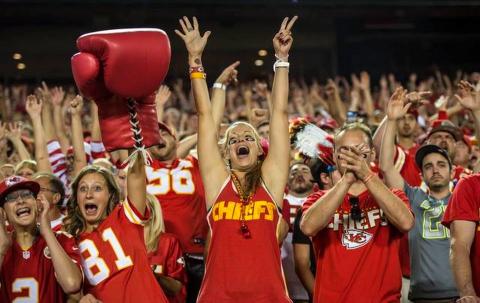 NFL: Denver Broncos @ Kansas City Chiefs
I have been championing the Chiefs through the opening eight weeks of the campaign, my notes on their trip to New England to play the "world champions" in the tradional seasonal opener are reproduced at the foot of this email. They won that 42-27, then beat the Eagles, who are otherwise 7-0 by a touchdown and moved on to 5-0 before back to back losses to a very good Steelers team and painstakingly, to the Raiders last week. Now they have to get back on track, they have some big weapons, ahead of the Eagles game I updated with ............
Potential super stars in WR Tyreek Hill (seven passes for 133 yards and a touchdown) and RB Kareem Hunt ( NFL rookie single-game record for most yards from scrimmage in a debut performance) will be looking to impress agai.
Then prior to a big win in Houston ........
Chiefs Tight End Travis

Kelce

had big games against the Eagles and Redskins ( when Hunt and Hill don't get you, he will !) and he has shown a liking for this venue, with 6 catches for 106 yards and 2 TD's here in 2015 and that was when they the Texans didn't have H&H to worry about too. If his line can give him a little time, Alex Smith has too many weapons for the Texans for me, Hill one on one will be a mismatch against this secondary, with cornerback Kevin Johnson out and issues at safety and trouble defending the vertical pass, witness what the Chiefs did to the Patriots with this and not just through Hill, Hunt had a 78 yard touchdown pass and Smith "doesn't have an arm"  !
Denver are 3-3 (0-2 on the road) and are slumping, they have scored just 36 points in four starts, only ten in their last two v teams with a 1-6 and 3-5 record and they were kept scorelss last week for the first time in 25 years ! That will have hurt and they are not as bad as that, but something is wrong and their rushing offense has just stalled. They had a combined 115 on the ground in the last two games, which is 28 less than they were averaging in each of their previous four starts, Chiefs are not greay against the run and two games is not enough to totally dismiss the Broncos running game  but it is obviously key. You cannot write off historical trends in these divsional games when teams come into them with grudges/baggage/confidence from previous meetings. KC have taken the upper hand and won the last three, their longest sequece of wins since taking four in 99-00, they then lost 20/29 including seven straight before their current run.
In the last 9 meetings at least one team has scored 24 points, with all nine games producing at least 41 points. That 24 number is interesting as KC have scored 24+ in 6/7 this season, conceding 19+ in six, with five producing 47+ points. If one team today is going to continue that trend and score 24 +, it seems far more likely to be the Chiefs.
 
I am not sure the Broncos can slow the KC offense, their running numbers are good but Denver have already given up 11 passing touchdowns and that is not them (only 13 all last season) and they have been very weak against tight ends in recent weeks and that is going to make Kelce ( see above) a huge threat today and it feels like, as a minimum, that Denver are going to have to score more points than they have in six weeks to keep this within a TD. They can do that and I would not be shocked to see a mini shootout given the h2h numbers, but KC are better equipped to deal with that , the Chargers who kept Denver scoreless last week , lost by two TD's at home to the Chiefs and the Broncos feel very much in transition. They had to change head coach due to ill health and replacement Vance Joseph feels like an odd appointment, he had just one season as an NFL defensive coordinator and his Dolphins unit finished 18th in points allowed in 2016. He has had absolutely no experience in working with QB's which is a problem area in Denver and is this the right guy to build a modern day NFL franchise team ? I have my doubts.
1.75 units Kansas City Chiefs -7 points 2.03 Pinnacle/Sportmarket Pro/Vegas Line.
Good Luck.
Kansas

City

Chiefs

@ New England Patriots

(written September 7th)
Traditional opening day fixture which sees the defending "world champions" start the new season as host, that is the Patriots and it was also them in 2015 when I wrote about how these games tend to heavily favour the "homecoming champion" ..............
Back to today and we have the now traditional seasonal opener which sees last year's Super Bowl champions (New England Patriots) host the first match of the season. Last season I spoke about this.....
The defending Super Bowl champions traditionally host the "kick off" game and usually win. Going into 2012 they were 8-0 since the inception of this fixture, but the New York Giants lost that game and it also ended a sequence of the Super Bowl champions winning their opener every year since 1999. The Baltimore Ravens also lost their opener last season, but before we start thinking that puts an end to the "invincibility" stats, they were not playing at home, as the fixture clashed with an Orioles game....don't ask !
 
However, when they returned to their home, the M&T Bank Stadium, the following week, they beat divisional rivals the Cleveland Browns by eight points. The Ravens championship team had also broken up badly due to retirement and free agency, so that was noteworthy and I still think it is a very big thing for the defending champions to win one in front of their own supporters, in what is effectively the homecoming game. We have spoken many times about the support sports teams in Seattle enjoy, the fans are hugely passionate, this is amongst the nosiest venues in all of the NFl and if you ever get the opportunity to watch any sporting event in the

city

, then take it, it is an experience !
We sided with the Seattle Seahawks who were hosting the Green Bay Packers and asked to give up 5.5 points, they ran in 36 points and won by 20, with the match over as a contest with the first play of the fourth quarter.
 
The

Patriots

will be looking to become the first team since 2005 to "repeat" which they themselves did that year, but back to back Super Bowl wins look a thing of the past and it will be a very big ask for them, but I do expect New England to continue the opening day trend and start their campiagn with a resounding victory. This will also be the first time that the Pats have started their season with a home game since 2010 ( beat Bengals 38-24) and that provides further motivation to hit the ground running and they and the NFL will want a bit of a performance/entertaining encounter to kick start the new season, the two have met just once in four years, with the Pats winning 55-31 two seasons ago here in Foxborough and a repeat would keep everyone, apart from Steelers fans, happy
. 
The Patriots kept the trend going and won by a touchdown.
 
Last year it was the Denver Broncos and incredibly, we could and did back them with a handicap start ! As they had some "issues"..........................
The

Broncos

will look to follow suit, but it will be tough and they will have a new quarterback at the helm in Trevor Siemian, replacing Peyton Manning who retired in March, making

Denver

only the fifth Super Bowl champion to go into the next season with a new #1. To be honest, that shoud not be as big a shift or ask as it looks and the

Broncos

are not going to be asking Siemian and his offense to do anything spectactular, far from it, he and they will just be asked to keep hold of the ball a little longer , being ranked 21st in terms of possession and 30th in turnovers in regular season play last year, the only way looks up and apparently, a lot of risky plays have been removed. They still have the best defense in the NFL and it would have been ranked even higher had they not be asked to do so much work and spend so long on the field.
Denver

were trying to incorporate a superstar quarterback and natural leader into the team , when he was banged up, past his best and trying to make plays he was probably no longer capable of, that is not to denigrate Manning, he has been a great player, just stating facts. He was not even operating under center, which was what his coach preferred. Siemian has been given help, running back CJ Anderson will be asked to carry a far bigger load and he and new draft picks Devontae Booker and Andy Janovich will give them huge and varied options on the ground. The offensive line has been beefed up and upgraded with the additions of
 Russell Okung and Donald Stephenson , Stephenson is well know to

Denver

coming from a divisional rival, Okung is a huge signing in every way, he is a seven season veteran who has started 72 regular and all 12 post season games at left tackle in the much admired Seattle Seahawks line, allowing the second fewest sacks of any lineman with 70 + starts.
They are going to run first , ask questions later and will continue to rely on that defense to keep them in the game, Siemian will not be asked to do too much, hand the ball off and get out of the way ? But of course, that ideally sets them up for a surprise or two and they spoke this week about being able to win if they need to score 10 or 50 points, the latter is going to be difficult (read, impossible), but 20 + , with this defense, is going to win them a lot of games. They failed to score 21 points eight times last season and scored between 17 and 24 on 15/19 occasions in regulation play and never more than 31. This was a decidely average offense (at best) ranked 16th overall and a lot of stats make even that look flattering, therefore, all the doom and gloom about the untested quarterback seems a bit OTT and that works in our favour with

Denver

getting a handy handicap start today. It is a different game of course, but

Denver

beat the Panthers by two touchdowns in the Super Bowl despite Manning throwing for just 141 yards and committing two turnovers
.
Denver won by a single point 21-20 which was just perfect , those notes do not mean much for today, but I wanted to highlight two things, firstly, how useful those stats/numbers can be and what a huge deal this is for the hosting team in what is basically the Super Bowl homecoming game. The Patriots will certainly be up for this and have an incredible first home game record under Bill Belichick anyway and have won their first game in Foxborough in 14 of the last 15 seasons ! However, winning and covering the spread is not the same, especially when the line is set at 8.5 points . Eight of those 14 wins came by a touchdown or less and the other six by 10 points or more, five, including the last three, by exactly 7 points. Opponents have scored 20+ points in six of the last eight and
Kansas
to score 20 + points, with the Pats to win by 1-7 points covers all and when these two last met, here in January last year, New England won 27-20  !
I spoke about that game in my post season notes on the
Chiefs
earlier this year and I have highlighted a few lines this morning..............
That team is the

Kansas

City

Chiefs

who I feel have gone under the radar all year, playing in the AFC West alongside the defending Super Bowl champion Broncos and the

resurrected

Oakland Raiders, both of whom took most of the divisional headlines. I like almost everything about them, end of season form, their head coach, no weaknesses, odds which are good, lack of pressure and that unlike every other team in the NFL, I do not think they will fear going to Foxborough in January, infact, that is the match up they are looking forward to and the one they possibly even wanted !
The

Chiefs

ended the season 12-4, after an indifferent 2-2 start, they then came off their early season bye week and went 10-2, they lost two home games narrowly (both by 2 points), but went 6-0 on the road, winning in both Denver/Oakland and also in the Georgia Dome against the #2 ranked Falcons offense and they have played all the really big games well and won them all.  This largely mirrors last season when they finished the regular season 10-0 and went to Houston and won on the road 30-0 in the wild card game. That was incredible, as they went into that 0-8 in the post season, having not won a playoff game since 1993, they then went to New England with huge confidence and I can tell you that they 100% expected to win that game.

Not for the first time(about the 100th actually) the Patriots faced a "confident" side and put them in their place early and that is normally the end of things when they are playing in Boston at this time of year. But there is a huge difference between actually being confident and just saying you are and the Chiefs and head coach Andy Reid are made of sterner stuff, fought back and kept things close for four quarters. Very little went the way of the Chiefs, especially early and the opening drive for the Pats explains that, they had New England third and long three times and made Brady and co (mainly Gronkowski) come up with big plays, that is what they do, but the hosts rode their luck there and right through the early part of the game and it is unlikely (though not impossible) that things will go as well for them again, especially with Gronk out for the season, they have huge players to step in, but none of them is like Gronk, because there is no one like him ! Chiefs put up more yards than NE that day and had a very balanced offense with 135 yards on the ground and 246 passing and there is so much for them to take from that game and I feel they have and are improved this year and they will go there with a chance, but so much more importantly self belief and perhaps not the cockiness they arrived with 12 months ago.
I see no real weaknesses in the team and a NFL high nine players made the top 100 for 2016 which gives you some idea of what they were working with and most of those have stepped up a level IMO, TE Travis Kelce for example and the Chiefs also drafted well . If we look at quarterback Alex Smith and I just rewatched him in the final day win over San Diego, he stepped up a gear on all the big plays, he was 9/9 (!) on 3rd down passes for 104 yards, converting on eight. His team only punted once and only came up short on two drives, the other being a tipped pass which was intercepted, after Smith moved them 55 yards to the red zone, so he is clearly at or near his peak right now and the Chargers are ranked #8 in defense efficiency, up 20 spots from last years #28 which really adds a sheen to those numbers.
Some good stuff there. Smith is still the starting quarterback, but the Chiefs moved heaven and earth to bring in Patrick Mahomes II and he looked very good in pre season and the real deal in terms of potential . Competition is great and it will probably only serve to make Smith step up another level, but General Manager Brett Veach gave the veteran QB a huge boost this week and said the contest is no contest: "Alex is so far advanced in the mental side of things in regards to his ability to read coverages, to shift to better plays and really play the chess game. "He's so far ahead of where Pat (Mahomes) is, it's untrue. "
Of course, what is true, is that the youngster will be breathing down Smith's neck and expecting to start in 12-24 months, possibly before and now is the time for MS to win something, or give someone else this golden opportunity.
Teams that thrive in the NFL are those that have done well previously AND have stability, the ones who don't try to make too many changes, too quickly. That is the Chiefs and they have 43/53 returnees, including 20 who are starters, with a seemingly ideal average age of 26 and this is a group who can grow and improve over another 2,3,4 seasons. They also come into the campaign with a fully healthy defense for the first time in two years.
The Chiefs also know they can compete with the Patriots, that is why I think they wanted that rematch last year (which never came about), they felt robbed a little in that 2015/16 game and are perhaps the only team in the last decade who have humiliated New England, with a 41-14 win at Arrowhead in 2014, the Patriots biggest loss since 2005. It wasn't just a heavy defeat, but a humilating one, with KC dominating in every aspect of the game, they had two runners with 199 yards between them, Smith had three TD's no interception's , Brady was sacked three times, threw two interceptions and was replaced, his team could not move the ball on the ground and the Chiefs had a settled defensive line then and will do so again today and hopefully this early season.
That should give KC and head coach Andy Reid belief they can win today , Reid has a losing record against Belichick, but then everyone has, two teams are .500, eBB has a winning record against everyother tean ! But Reid has been close to three other wins, losing two by three points, one in Super Bowl XXXIX when the Eagles got so close, despite Donovan McNabb throwing three interceptions, each of which must still leave Reid waking up once per month in a cold sweat.
Anyway, back to today, the return of  finally healthy Allen Bailey, who played little last season and addition of Tackle Bennie Logan from the Eagles will make the
Chiefs
very difficult to run against, certainly eventually and maybe today, with the Pats lacking real strength at Running Back. Logan turned down a longer contract and more money in Philadelphia to make the move and I think that says much about the
Chiefs
prospects. I think this is a pretty good match up for KC at these quotes, teams had success last year running between the
Chiefs
guards and did so on 74% of rushing attempts, next highest against any team was 67%, so that was obviously a perceived weakness and when all/most NFL coaching team come up with the same idea it is probably the correct one, Reid will have looked to address this and probably has, but the Patriots backs, to a man, prefer to run horizontally in any case.
We don't just sell football betting tips, as you can see there is an extensive analysis behind our asian handicap selections. Subscribing to our sports betting advice service need not break the bank. Learn more by visiting our subscriptions page.
Don't be selfish, share the betting tips