Premier League betting tip: Bournemouth- Everton
Dec 30, 2017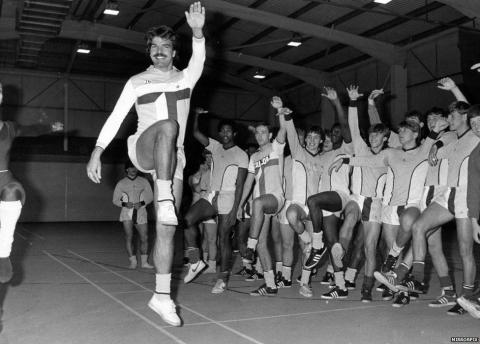 Today's clubgowi subscriber notes contained five match previews, two from the Premier League and three from the Championship and stats from several other fixtures, you can read one of the previews below..............
Premier League:
This round over the last five seasons has seen 57.14% of games produce 3 or more goals, 22.45% with 5 + and 14.29% with at least six. Those numbers are well above the norm, especially at the upper end for the real shootouts and if that trend continues we can expect 1-2 games this weekend to produce at least six goals.
Bournemouth - Everton
Everton have served us well since Sam Allardyce (pictured) took charge and there are a lot of background notes on them in a preview below, under the "good luck" sign off. They took a point aginst Chelsea there in a scoreless draw and repeated the score at the Hawthorns on Boxing Day in a 0-0 stalemate with struggling West Bromwich Albion with the hosts very wasteful in front of goal and the Toffees surviving wave after wave of attacks. We "know" how Bournemouth are likely to approach this and ahead of a meeting with West Ham here four days ago my notes included............
Ahead of

Bournemouth

's last home game, a visit from Liverpool I wrote ...........
These two played out two shootouts last season, with four goals shared at Anfield and the Cherries coming from 0-2 and 1-3 (65 minutes played) down to win by the odd goal in seven here, with a 94th minute winner. That was played in December last year and something similar this afternoon would brighten up a cold day. Both fixtures could have produced more goals and four was almost the minimum that 

Bournemouth

 could have scored in the home tie. There has been an almost constant theme with the hosts games here on the South Coast since they were promoted and that is the wide open nature of most and ahead of the game 54 weeks ago my notes included .......
We spoke so much last season about the open nature of 

Bournemouth

 home games, we have not seen that to quite the same level this season. but that has more to do with how teams have set up when arriving at Dean Court, Manchester United came here and played their part in a four goal thriller and we know 100% that Liverpool will not be coming to sit back, it is simply not in their DNA under Jurgen Klopp. The Cherries went toe to toe with Arsenal at the Emirates last weekend and were in things and gave as good as they got for 90 + minutes and will need no second invitation to get forward this afternoon. No Coutinho for the visitors, but Lallana and Firminho should be fit to play. Andrew Surman remains out for 

Bournemouth

 and whilst we have not seen it yet, the defensive midfielder (ever present for over 25 months since joining until October) is very important to them and his absence  will be felt today with Liverpool so good at pressing and moving the ball quickly.
This season they started a little more conservatively, but that did not suit them and results and performances have improved since they went for things a little more and ahead of a recent 4-0 win here over Huddersfield I commented...........
I like 

Bournemouth

 as a club, they always try to play football and to win games, that approach has served them well in the Premier League, at least until this season when they are currently only one point outside the drop zone. They have not been as adventurous it has to be said, I hope that has been a blip and not by long term intent, that is alien to most of the players, the head coach and club. Anyway, they have a good series of fixtures in the next month , before a tough looking end of the year (both Manchester clubs and Liverpool back to back) and I expect them to be going for it in these games. They do tend to do that in these fixtures and have won their last five starts here against newly promoted teams. Those wins have come by a combined 17-3, with all going "over" and 

Bournemouth

 leading at half time in four, we need that early breakthrough again, but a good chance it will come.
Liverpool won 4-0 and

Bournemouth

have subsequently conceded four at Manchester City and two at Stamford Bridge (cup) and have now faced the top four inside 10 days and that will always take a toll, but they will also surely welcome the lesser level of opposition.
West Ham had looked far more disciplined under David Moyes, until they returned to their old ways and some calamitous defending at home to Newcastle United who were previously in freefall ( see Leicester preview notes above) on Saturday, conceding three. I expect both to score today and each to push for the win, two bottom four teams meeting should usually mean goals and that should again be the case
.
Whilst they needed help to take a point in a 3-3 draw, they had 26 attempts on goal, 20 inside the box (to give that stat some context, Manchester City have had more than 18 just once in all starts this season and then "only" 21) and ten on target , those are all HUGE numbers. Equally importantly we saw a real return to their wide open thrilling attacking football which has served them so well under Eddie Howe. Everton will get nothing today without a goal or two, they get Wayne Rooney back after he missed the last two which will help, but have defensive issues and we have to stick with ...............
1.75 units Bournemouth "over" 2.5 goals 2.16 asian line /Sportmarket.
Elsewhere:
Manchester United - Southampton
United have scored 9 home goals in the final 15 minutes and can take a while to get on top of teams here at Old Trafford. Saints have conceded just one road goal in the opening 30 minutes and if you like the hosts here, you might be better off sitting out the opening exchanges.
The Hornets have conceded a whopping 13 first half home goals when they have a -8 goal difference, they tend to step up after the break. Swansea have scored just five road goals , but four have come in the first half and they have only conceded twice away from home in the opening 30 minutes.
Huddersfield Town- Burnley
Hard to see this being a goal fest, but Town have scored 61% of all and 70% of home goals before the break and the visitors have scored 67% of their goals in the opening 45 minutes and led 2-0 at the half at Old Trafford on Boxing Day and if the goals are going to come, it is likely to be sooner rather than later. "Over" 1 first half goal @ circa 2.56 is definitely an option.
Championship:
Championship games over the same five year period have been far less open, which is only to be expected in this most competitive of divisions, where almost all games are keenly fought and only 46.55% have gone "over" 2.5 despite the feelgood holiday mood and that is below the second tier average, but 27.58% have produced four or more, which is above and probably better to seek any goal line value in the 3.0 + goal markets.
Good Luck.
 
Everton

- Chelsea

(written December 22nd)
I looked at
Everton
- Swansea on Monday...........
Everton are in great form and have won four and drawn with Liverpool in the Merseyside derby, largely since Sam Allardyce took charge ( he was in the stands and had not officially taken over for the first), but you can already see his impact and how better organised he has the Toffees. We sided with them in two of those games, including at Newcastle United last weekend ........
United are struggling , they led early in their 125th Anniversary game and then got level against the run of play and quite a lot went their way, but they lost their 11th point (Premier League high) from a winning position and they are in freefall at present and will meet another motivated former manager this evening in Sam Allardyce who was the first head coach sacked by Magpies owner Mike Ashley and Big Sam also has some "history" with Rafa Benetiz his Magpies counterpart, with the pair not getting on.

Everton

are finally finding their feet and are unbeaten under Allardyce and in four competitive starts with a 10-1 goal difference, ahead of their home game with Huddersfield Town 11 days ago my notes included............
Everton

have awaken from their slumber and Wayne Rooney rolled back the years with the midweek 4-0 win over West Ham United and, hat trick for the former England captain. They might not have beaten much in the struggling Hammers, but face arguably less in the Terriers who are 1-1-5 on the road and coming from a 5-0 battering at the Emirates, where they were chasing the Gunners around for 90 minutes without the football.
Town lost that 4-0 and whilst 15 points is a decent haul for a newly promoted team, my feeling that they are overachieving remains and away from West Yorkshire they have looked lost since opening day , failing to score in six starts and shipping an alarming number of goals. The Toffees need to build on their win and new head coach Sam Allardyce will want to hit the ground running on his home debut, Oumar Niasse and Michael Keane are available to increase options from midweek and in terms of opposition, Town would be very close to the top of Big Sam's list, were he allowed to cherry pick a team to play.
Next time out

Everton

play the Merseyside derby and things will get tougher, he can pick up some points and goodwill today and lift some of the pressure off next week's fixture. The Toffees will move into the top 10 with the win and will have eyes on 7th/8th spot, seeing the "best of the rest" position as almost theirs by right and they have finished 4th-8th in 12 of the last 15 seasons. They have missed the goals of Romelu Lukaku and have been hard hit by injury, but now that they are starting to find the goal more regularly (10 goals in their last four league games) and coming off such an emphatic win and clean sheet, with two additional players available today, it will be hard for Big Sam to explain away anything other than a home win.

Everton

have a huge transfer window ahead, prior to which de facto owner (as opposed to majority shareholder) Farhad Moshiri is likely to increase his shareholding and take over the decisions about what to spend in the transfer market for the first time and Allardyce can have some say in what that will be, with interim results.
They won that 2-0 and followed up with a point in the Merseyside derby, where Allardyce make no excuses for setting up negatively and he will always take  a pragmatic approach where necessary.

Everton

defender Phil Jagielka has returned from injury to further increase options for Allardyce and the Toffees will have real momentum to take into a win-able weekend home game and the Christmas period with a result today. Two teams heading in opposite directions.
They won that 1-0 and now play back to back home games, basement club Swansea City tonight and Chelsea on Saturday and obviously, points will be easier to come by this evening and if they take all three , it will not only set them up for the second, but take much of the pressure off the visit from the Blues. The Swans are in big trouble and totally toothless, four points from safety and having scored just nine goals, at least four fewer than anyone else. They are 0-1-8 (one cup) in games versus top 10 teams, scoring three goals and conceding at least twice in seven . Last month I wrote about their issues .............
Swansea

and head coach Paul Clement are in huge trouble. They are second from bottom, not playing as well as the only team below them in the table and have lost 7/8, the team is totally devoid of confidence or self belief and cannot put a 90 minute performance together. Other teams can smell the fear and are hunting them down like a pack of hungry hyenas. They can play alright for 20 minutes, but not 90 and the £66m they got for Llorente, Sigurdsson and Cork looks expensive as it will cost them double that and more in lost Premier League income and it left the Swans devoid of leaders on the pitch . If Wilfried Bony was the striking answer, I have no idea what the question was ? He has played 220 minutes of football in the last 53 weeks, not scored a goal and is barely even a pale shadow of the player he was in 2013 and 2104, which now seems a very long time ago. Tammy Abraham is a young striker with big potential and an eye for goal, but had played 53 minutes at this level before this season, has not scored in four and all the offensive threat seems to be in his basket, which seems unfair and he is, anyway, a major doubt today.
Bony has scored twice subsequently (5 games) , but the Swans have already admitted they need to try and add another striking option in the January window and if

Everton

play as they have in any of their last four league games, they should be too strong for the visitors
.
Everton
came from behind to win 3-1 and should be able to relax and give the Blues a tough game, the hosts have performed well in home games against the defending champion, avoiding defeat in 7/10, with 2 of the three defeats coming in Chelsea title winning seasons and that will definitely not be the case this time round. The Blues have struggled for goals a little recently, only two in three starts v Swansea, West Ham and Southampton in the last month and a goal for the hosts, who pose a big offensive threat currently, might be enough for a share of the spoils today.
We don't just sell football betting tips, as you can see there is an extensive analysis behind our asian handicap selections. Subscribing to our sports betting advice service need not break the bank. Learn more by visiting our subscriptions page.
Don't be selfish, share the betting tips