UEFA Europa League betting tip: Lugano- Hapoel Be'er Sheva
Nov 23, 2017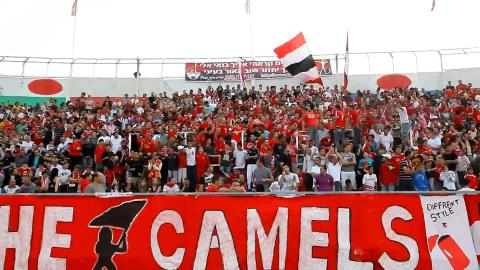 UEFA Europa League: Lugano- Hapoel Be'er Sheva
Hapoel Be'er Sheva are a little better known now, but had barely been heard of on the international stage ahead of their European campiagn last season and we can start with a look back at notes from summer 2016 , written prior to their second leg game with Celtic in Israel. The link is still active and very much worth (re)reading and the opening paragraph about the Scottish champions remains very pertinent following another capitulation last night................
 
Celtic won the first leg 5-2 and looked out of sight at one stage at 3-0 early in that tie and on another night could have won by five, however and equally, they could have crumbled at 3-2 and again when the Israeli side were denied a penalty later in the game. We have seen them do so before and Brendan Rodgers, the head coach of the Scottish champions, said yesterday that those involved in last season's surrender to Malmo at this stage of the competition will not be unnerved by that disappointment. Adding:"I think a lot has been made of what's happened in the past and I've always said you have to embrace failure." He spent half the interview talking about this and for me,the loss in Sweden, and some other big collapses in the Champions League in recent campaigns, are clearly playing on his mind .
I think that this will be a very different game, Celtic were very fortunate not to lose at Astana, where they fought a rearguard action for most of the 90 minutes and they have won just 9 of 62 , including 2 of  their last 14, away starts in Europe and have kept just two clean sheets in the last 20 ( in Azerbaijan and Iceland).

Hapoel

Beer

Sheva

have great confidence from their first domestic title in 40 years last season and head coach Barak Bakhar feels there is still life in this and rested key players for tonight in their league opener on Saturday.
HBS are a special team and have very much a "them against us" mentality domestically,  Beersheba being in the "wilderness " of the South and their title win last season was described as "doing a Leicester City", which is a phrase we are going to hear far too much of ! To get some feel of where this team are and where they have come from, there was an interesting article on the Guardian website, which was reproduced from The Blizzard. Celtic can lose by 2 and still progress and I think they will look to keep this tight, which they are ill equipped and unused to doing and I expect the host to edge this narrowly and both teams to celebrate come the end of 90 minutes. The visitors also conceded two goals quickly from three up against St Johnstone at the weekend and sitting on a lead is not their forte.
Hapoel won that 2-0 and almost turned the tie on it's head, they played Europa League as a result and made a name for themselves, doing the double over Internazionale and drawing both games with Southampton in the group stage, to qualify for the knockout round. They were again domestic champions (by 13 points) and came close again to Champions League football this season, losing on away goals in the playoff round.
HBS are currently third in Europa League Group G, leaders Steaua Bucharest have already qualified , Viktoria Plzen are second with six points, Hapoel are two further back, but host the Czech team on Matchday 6, so two wins will see them qualify. Lugano are not out of things completely on three points, but they lose the tie break to the team in second, so should Plzen win at home to already qualified Steaua, it will be game over for the Swiss side. Lugano's league form has suffered as a result of European competition and they are just two points off the foot of the table and host leaders Young Boys on Sunday and actually play the top 3 in their next three starts and survival should really be their priority. The game tonight, like of all three of Lugano's home ties in the competition will be played 170km away in Lucerne, crowds have been low for these games, will surely be so again this evening and any "home" advantage minimal.
Hapoel started the season relatively slowly, but have won their last five (three on the road), by a combined 13-4 (conceding in four) and are now joint leaders and looking more like their old selves. Their task is straightforward, they do not have to concern themselves with events elsewhere. Lugano have scored in all four group games, but also conceded at least twice in each, both teams have scored in the four involving HBS and we can expect more of the same, the visitors to win with both on the scoresheet. 1-3.
1.5 units Hapoel Be'er Sheva -0.5 ball 2.40 asian line/Sportmarket.
1 units "over" 3.5 goals 2.875-3.10 general quote.
Good Luck.
We don't just sell football betting tips, as you can see there is an extensive analysis behind our asian handicap selections. Subscribing to our sports betting advice service need not break the bank. Learn more by visiting our subscriptions page.
Don't be selfish, share the betting tips