UEFA Europa League betting tip: Zorya Luhansk - Athletic Bilbao
Dec 07, 2017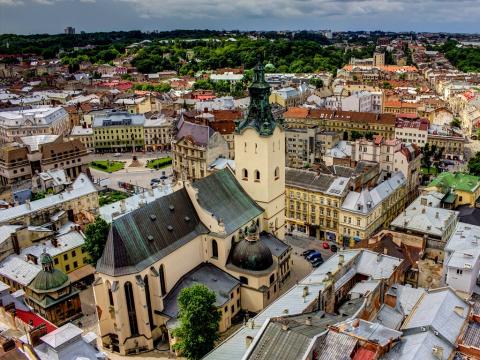 UEFA Europa League: Zorya Luhansk (n)- Athletic Bilbao
Match will be played in Lviv (pictured) where Zorya have already beaten Hertha Berlin.  This will be tougher as we know that Spanish teams always treat the competition with respect and Athletic have a long history with the Europa League and were clubgowi favourites in that fantastic run to the final in 2012 and few long term subscribers will forget that huge odds win at Old Trafford. However, teams from the Ukraine also save their best for international competition and with the big two, Dynamo and Shakhtar already having made the knock out stages of the Europa and Champions League respectively, relative european "newcomers" Zorya will be looking to make it a hat-trick.
Last season they made it to the group stage for the first time and I spoke about them being a team on the rise, but doing so in the shadow of Donetsk and happy to take small incremental steps forward ............
The eagle eyed amongst you will have noticed that the hosts are from the Ukraine and that country has provided some very big players in this competition in recent years, but

Zorya

are no Dynamo, Shakhtar, Dnipro or even the now sadly defunct Metalist, where the owner did a "runner" ! They have spent eight seasons in the top flight and it has been a case of very steady improvement, rather than any quantum leaps forward and their Europa League camapigns have gone along a similar path, coming up short of the group stage, the two previous occasions they have qualified, finally making it this season and it feels like it will be a continuation of the learning curve for them, with the target for this season having been reached.
They have no stand out stars and much of their success has to do with their close relationship with Shakhtar, with the

Zorya

owner being the former president of the Donetsk club. They currently have six players on loan from Shakhtar, one looks promising. but the truth is that most are of the level to help them progress slowly, but not exactly thrive. They are very much the little brother and are overachieving with 4th in Premier Liha (which is pretty much the only spot up for grabs for them) and in reaching the group stage of the Europa League. They have a huge domestic game with Dynamo at the weekend and

Zorya

and, it has to be said Shakhtar, will be keen on leaving something for that game.
They struggled in a very tough group 12 months ago ........ Fenerbahche, Manchester United and Feyenoord, but learned a lot, finished third in the Premier Liha and got another opportunity and it is real progress to have a chance on Matchday 6 and they would play in the knockout round with a win. They are in contention for third place again domestically, which is all that is on offer, but it will all be about today's game and they might well consider this the biggest fixture in their history.
Athletic only need a point to qualify which is perhaps just as well, as they have won just 3/16 competitive domestic games, losing to third tier Formentera in the cup. They sit just four points and two places above the drop zone and face two away league games and a home derby with Sociedad before the Christmas break and are coming off a very hard fought 0-0 draw with Real Madrid, where they will be buoyed by the point, but saw little of the ball and Real hit the woodwork twice and finished the match with ten men. They will want to progress, but can do that with a point and we can cover results that both teams are looking for (home win and point for the visitor) by taking Zoraya at odds against with the half ball handicap and that feels like far and away the best value.
It can get cold and wet in Bilbao, but it was +13 degrees when the team left and the squad clearly felt the cold as they departed the plane yesterday, almost to a man pulling their hoods up and it will be around zero at kick off, with the wind chill making it feel colder. Athletic will be playing Levante the team immediately above then in 20 degree Valencia on Sunday and it will be a very demanding week for them, including the 12 hour round trip to Lviv.
1.5 units Zorya Luhansk + 0.5 ball 2.00 asian line/Sportmarket.
Good Luck.
We don't just sell football betting tips, as you can see there is an extensive analysis behind our asian handicap selections. Subscribing to our sports betting advice service need not break the bank. Learn more by visiting our subscriptions page.
Don't be selfish, share the betting tips