Basketball Service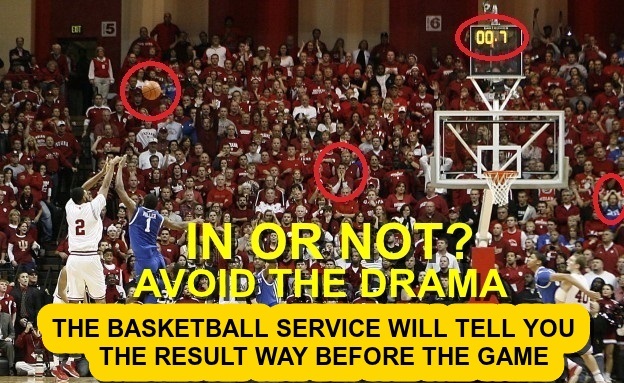 Edit: ( June 25th) Full 2015-16 season service review and results update can be viewed on this page.
Update (14/04): The NBA regular season has just finished and Veselin has taken a look back at a remarkable season and also detailed results for the BBC service and you can read those on this link.
All bets have been with Pinnacle Sports, odds also available with Sportmarket Pro and these are very good returns indeed for easy to play, but traditionally hard to beat Vegas lines.
Welcome to Bside's Basketball Corner ( BBC) ,which is a brand new service working in co-operation with clubgowi. We have been very selective about products to promote at clubgowi and in just a little shy of ten years online here on the website and old GOWI blog, we have only every really "pushed" Sportmarket previously and have never carried affiliate ads or text advertising which flood most other betting related websites, so you can be sure that when we do, the product we are promoting is something special, a premium service and one we really believe in.

As the name suggests, BBC is a specialist basketball betting advisory service and I feel it is going to be the perfect partner for clubgowi and a must have for any B-Ball fan, or anyone looking to diversify and expand their betting portfolio, it is run by Veselin whom I have known for many years, but it is probably best if I let him introduce himself ........

Hello !  My name is Ves Stanchev and my professional background is in civil aviation and project management in the renewable energy sector. Eventually, I realised that whilst providing a reliable and regular income, these jobs were not making me a tremendously happy person and I decided to jump ship and turn my long term hobby and passion for gambling into a full time business. I have been betting for many years, knowing relatively little at the beginning , but educating myself along the way and have been, what I would term a semi-pro gambler, for most of the last decade, viewing sports betting as investment, similar to stock or FOREX trading, where the principles of success are fairly common and I could use my knowledge of the sport I love to make proper evaluation of any given market.

That sport is of course basketball, I played as an amateur and have followed NBA and European basketball as a fan since 1994 and bet on it for much of that time, but started to produce detailed analysis of games three seasons ago and have achieved a ROI of between 5-10% in each of those seasons, betting only with the big "asian" companies Pinnacle and SBOBET where winners are not discouraged and markets are very liquid. I recorded some of my 2014 season bets on blogbet and had a ROI of 8.37% from 167 selections, but it was my analysis which was getting attention and with friends and contacts increasing asking for "tips" and information, it got to the stage where I made the decision to start writing a daily newsletter. Keith of clubgowi had been encouraging me to take the plunge, I have been a paid subscriber there since the begining and have learnt much about finding value in betting and his confidence in my ability was the catalyst in making the decision to start BBC. Many of you will already know me from my forum/ betting community activities and via my nickname of Bside, I have been very active on those for many years and as a result, have been asked to contribute articles to several publications, including the Secret Betting Club.

I cannot make any guarantees about profits, this is gambling after all, but can assure you that you will always receive professional NBA analysis, where I will target good value selections on a daily basis. I expect to have around 40 selections per month, mostly NBA , but with the odd Euroleague selection too and also previews of some long term markets. I hope and expect it to be a fun and profitable season and that you will come along for the ride, now, lets play ball !

Regards,Veselin.
You have two options to subscribe to the BBC advisory service, you can either sign up for one month, or for the entire season using the basketball payment buttons on the subscriptions page.....link.

The longer option offers much better value on a month by month basis and will allow you to follow BBC's first official season from start to finish and hopefully watch us flourish, along with your betting bank !

If you have any questions, please use the contact form below.
Powered by 123ContactForm | Report abuse