Third party review of the clubgowi newsletter....
Mar 01, 2014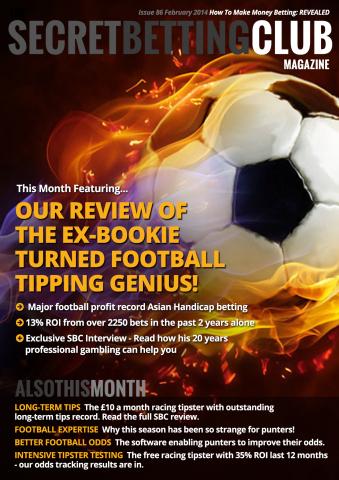 Secret Betting Club ran an 8-9 page review of the clubgowi newsletter service in their February magazine, a very small part of which is reproduced below. The whole article will be posted on the website in the near future , for now .....
The daily newsletter email hits the subscriber's inbox punctually and reliably at 10.00 each morning, seven days per week. Additional newsletters are provided on a Friday afternoon, and early Saturday and Sunday afternoons to ensure that the busy weekends of sport are comprehensively covered. Keith has also been known to provide a third newsletter of the day when the action demands, providing updates and further insight into certain events. I have never known Keith to be late, or if there is a reason for being so, to not provide members with an explanation as to why we can expect the latest missive to be at a different time to the one they're used to.
Here is an example from 25th January, of the sort of analysis and advice that you can expect to receive in each newsletter:

-----------------------CLUB GOWI EXAMPLE EMAIL -------------------
Copa del Rey: Valencia-Atletico Madrid
 I see decent value in the home side here, they should be in good heart after winning the derby game with Levante at the weekend and took Real Madrid all the way, losing by the odd goal in five, just before the Christmas break. Saturday's win was the first with new boss Juan Antonio Pizzi at the helm, he is their 5th head coach in a little over 12 months, but there are good reasons to believe that this, finally, might be the right appointment. The 45 yo has already won titles in Peru, Chile and just recently in Argentina with San Lorenzo, so is a proven winner, which is a good habit to have and he has some idea of how the club is run, having had a season at Valencia as a player. He has firm ideas about how things should be done and has already implemented one or two, including conducting pre match warms ups in total silence (to improve concentration), but in contrast, has already proved far more communicative than his predecessor in all other areas of the day to day running of the club.
Against Levante, Los Che were much changed, both in terms of personnel, Pizzi has started with a clean slate and brought back players out of favour with the former regime, width (at times with four wide players) and possession, which they dominated. They also played at a far higher tempo and with greater "intensity", which is clearly Pizzi's favourite word ( just read any interview) and he and they, will be looking for more of the same this evening and to build some momentum. Pizzi's timing might also be perfect, with Singapore billionaire Peter Lim offering to buy a large share of the cash strapped club and to provide funding this month for a Champions League push.
Tonight the hosts will be without top scorer Jonas (15 appearances-8 goals -1 assist) which is a loss of course and Ever Banega, but the latter only saw ten minutes from the bench at the weekend and Valencia have won 5 from 7 (all comps) without the former.
 Atletico are having a season to remember, but are heavily involved in the Champions League and going toe to toe with Barcelona (and Real) for the La Liga title and standing over this tie like the Colossus of Rhodes, is the weekend visit to Madrid from the Catalan giants, in what might well be a decisive championship game. To use one of Pizzi's key words, we know how "intense" Atletico boss Diego Simeone is and it is not in his nature to take any fixture easy, but surely even he has to appreciate there are bigger and more important battles ahead and if he really wants to progress in this competition, he can worry about it next week, when the Barcelona game is done and dusted and the second leg of this tie is scheduled.
His team are coming off a tough match at Malaga, where they managed to win 1-0, but rode their luck at times, Gabi and Raul Garcia were both suspended there, but are in the squad tonight and can expect some game time, ahead of the Barce visit, but elsewhere, surely at least a little rotation and perhaps more importantly, caution. Having said that, the hard headed Argentine coach has named as strong a squad as possible, probably because everyone else has said he should rest players (think Sir Alex as a comparison) ! However, I suspect one or two names on the bench and everyone who does start, will know that the big game for them this week is not this evening. All about the bigger picture for me and I like Valencia with the handicap start. 1.25 units Valencia +0.25 ball 2.20 asian line/Ibramarket.
Valencia:
Diego Alves, Vicent Guaita, Joao, Barragán, Víctor Ruiz, Ricardo Costa Mathieu, Guardado, Bernat, Oriol Romeu, Javi Fuego, Dani Parejo, Feghouli, Míchel, Pabón, Fede, Piatti, Sergio Canales, Paco Alcácer, Hélder Postiga.
Atletico :
Aranzubia, Courtois, Godín, Filipe, Alderweireld, Manquillo, Juanfran, Miranda, Tiago, Koke, Raúl García, Arda, Cristian Rodríguez, Gabi, Guilavogui, Adrián, Villa, Diego Costa .
If you are watching this game "in running", Valencia have scored just one goal at Mestalla in the opening 30 minutes in La Liga, but an eye catching eight in the 15 minutes before the break. On the road, Atletico have not conceded a single goal in the opening 30 minutes and just one all season in the first third of games. Given the two legged nature of this tie, there is a good chance that this follows suit and that we have an ultra cautious opening half and hour or so.
-----------------------END-------------------
As you can see, Keith will analyse team news and statistics when previewing a particular match, but another vital ingredient that he adds to the mix is the context within which the match is being played. I have seen him write that he likes to "feel" a match he is analysing before taking a definitive stance, and I believe you can see this in the above example.
Service In Summary: There is a huge amount to enjoy about the Club GOWI service. Keith has made it apparent right from the very start of communication with him that he does not wish to be judged solely on the results of his red-type betting advice, and it is easy to understand why when you read the copious notes he provides in his newsletter. This is a service for the thinking-man's bettor and if any follower has sufficient time, many future profitable betting angles will be revealed from the information provided in each of Keith's previews.
Having said that, there appears to be a massive potential for profit for those who will simply want to see exactly what bets Keith recommends striking. Club GOWI is a high turnover service with the ability to generate high levels of ROC, and at an impressive ROI! The results are impressive whichever way you look at them and is testament to the hard work and shrewd mind of the service's operator. To sum this service up, Club GOWI has not only provided it's members with profits, but to the open-minded, a betting education each and every day.
Excerpt taken from the Secret Betting Club magazine  February issue.
Good Luck.
Don't be selfish, share the betting tips