Today's newsletters .....The Sword of Damocles
Jun 15, 2013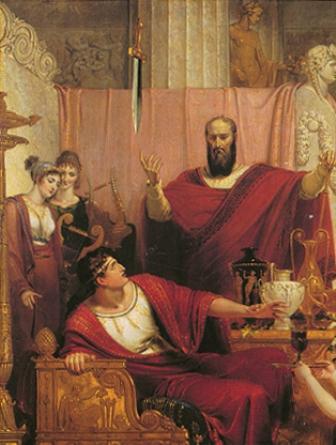 I have sent subscribers to the clubgowi newsletter, which is a pay by subscription service, details on this link, the usual two Saturday emails today. The first contained three selections at odds of circa 2.10. 2,75 and 10.0 +, last of those was a long term bet and by now, you should all be aware of how good clubgowi is with those. The other two are reproduced below.
At the start of the email I made it clear how pleased I was , win or lose, with all three selections and that was a clear indication that I "really " liked these as I very rarely write things like that in the newsletter.
The tennis match has just finished and Youzhny won 6-3,6-2.
In the follow up email which was sent out at lunchtime, I previewed four football bets for the overnight/evening football action.
Which included news of one team who had 15 attempts on goal and 18 crosses into the box from open play in the previous meeting between the two clubs just a month ago and now their opponent is missing the only real player who can stop them from pushing forward even more on the right flank.
Also, a solid bet at odds of 4.33 + and a "very strong" 1.75 unit pick and then, we finished with news of a team forced to play with two players alongside each other in key positions, who can barely communicate ( one speaks almost no english, the other with a very broad accent) and who have made just nine starts between them at this level and never together.
The clubgowi newsletter is a quality product and unlike anything else on the market, check it out.
Saturday June 15th
Follow up email scheduled at 13.00 UK time today and will focus on the evening/overnight football fixtures.
I am very pleased with this newsletter, win or lose, I like all three bets at nice odds of 2.20 +, 2.75 + and 10.0 +, all offer really nice value IMO and long term, that is all we need.
Having said that, the stronger football news of the day, will definitely be in the second newsletter.
UEFA European U21 Championship: Italy-Netherlands
I made the Italians a stronger favourite today, we did oppose a much changed Netherlands team in the last group game against Spain and whilst I accept that they rested almost everyone for that game, all my concerns about them as a defensive unit remain, they have conceded six goals already and that figure could easily, perhaps should, be pushing double digits and you do not win any major tournament without a solid backline. They looked incredibly vunerable through central defence in the Russia game, despite winning 5-1 and if the Russians had taken one of those early chances and kept ten men on the pitch, things would probably have been very different.
Anderlecht central defender Bram Nuytinck has returned home with a recurrence of his knee problems, he is their most experience defender and the backline looks far more exposed without him. They conceded just once in the ten competitive matches played in build up, with him in the starting eleven and three goals in the sole match he missed, he also sat out the 3-0 friendly win for Italy over the Dutch eleven months ago. I have just rewatched the goals and basic highlights from that, the Italians, especiallyLorenzo Insigne and Ciro Immobile were going through that central backline ( all three goals came through the middle), like a knife through butter and I think they will get a lot of joy the same way today.
The Azzurri are packed full of talent and have huge top level experience. Insigne might only be fit for a spot on the bench today as he is carrying a knock, but he, Immobile, Alessandro Florenzi,Manolo Gabbiadini, Nicola Sansone, Alberto Paloschi and Mattia Destro alone had over 200 Serie A starts between them last season, plus almost 50 goals and circa 25 assists. Marco Verratti was a regular for PSG with 9 Champions League starts and Fabio Borini will be expected to offer far more in his second season at Anfield after his big money move, if he can stay injury free. This is a wily, experienced squad , 14 of whom have more than a dozen international appearances and the core are seasoned through playing a full season of top flight football, the Dutch have a soft underbelly for me, despite a lot of talent at the other end of the pitch and I favour the Italians. 1.5 units Italy -0.25 ball Italy 2.13 asian line/Ibramarket.
ATP Tour :Gerry Weber Open: Halle
Richard Gasquet-Mikhail Youzhny
It is a little hard to believe that Mikhail Youzhny has never actually won, or even got to the final of an ATP grass court event, he has gone deep many, many times and has lost at Wimbledon ( where he has six times made the last 16) eight times in the last 12 years to former winners in Hewitt, Rafter, Ivanisevic, Djokovic, Nadal ( twice) and Federer (twice). It has been a similar story to some degree or another at the other three mid summer grass tournaments, including losing four times here in Halle late to, yes you guessed it, five time winner Roger Federer. The draw could always have been kinder and he took many of those opponents close, but looked to have missed his opportunity of winning one, after a couple of barren years on the surface and suffering with both injury and illness. However, he made the Halle semis last year and then the last 8 at Wimbledon, losing to RF in both, who he is never going to beat, but this time round, at least to finally make a final, he doesn't have to.
Today he faces Richard Gasquet, who is hugely talented with perhaps the most beautiful and technically sound backhand on Tour, but the one player who has a largely similar record on the surface, also coming up short at the final stages on grass ( five L16 spots at Wimbledon) many times. Youzhny also has a very nice one handed backhand btw, although not quite as consistent, but regardless of result, this match will be one for the purist and something to savour.
The pair are tied at 4-4 lifetime, but Youzhny has won arguably the three biggest match ups, including the two at grand slam events, they have never met on grass. That is kind of how I see this match today, a toss up at best and I cannot agree with the odds offered about Youzhny. The Russian has looked sharp this week and has played and served well in beating world #13 Kei Nishikori and #18 Philip Kohlschreiber (against whom he was previously 1-7 h2h) , Gasquet is a step up but not by much and Youzhny will be pleased he is not on the other side of the draw, especially given that Federer has to meet defending champion Tommy Haas in the other semi and there is a chance of an upset there for the second year running. Whata bonus if he could win and not face FedEx in the final ! Youzhny is very talented and has been famously called the most gifted player on Tour in practice by Roger Federer, comments which have hung over the Russian's head like the Sword of Damocles and done him few favours, but give you some idea of his ability. This is his "final" and I think his greater knowledge of the surface here, which is quicker than Wimbledon (Gasquet was 1-2 on only two previous trips to Halle), will serve him well this afternoon. 1.25 units Mikhail Youzhny to beat Richard Gasquet 2.75 + there is 2.78 at Pinnacle Sports and bigger for tiny liquidity ( it should increase nearer the start) on the exchanges.
Good Luck
Don't be selfish, share the betting tips