US Open golf: Round 4 betting preview
Jun 16, 2013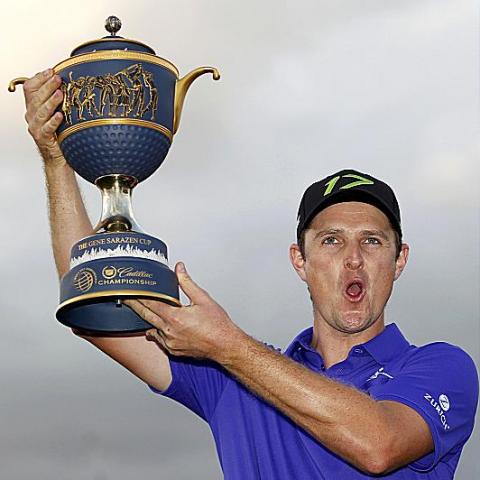 Our sole position on the US Open (see below) looks good with Charl Schwartzel just one stroke off the lead in a three way tie for second place, more importantly for us, he has a nice seven stroke buffer over the players outside the top 20, he has shot 70-71-69 this week and even a 76 or 77 in Round 4 ,would probably get the job done, but let's hope he doesn't cut things that fine ! Full leaderboard and in play action can be followed on the US Open website.
We only have one long term outright bet outstanding now on any competition and that is Justin Rose for the season long Race to Dubai, you can still read that on the clubgowi website. He is in a tie for 5th, just one stroke further back and it would be hugely valuable for us if he could post a high finish ( first ?). We can start with a quick look at him, all the reasons why Justin can go close are in that preview, he has put in four very solid performances at five of the last majors and has a top five finish at each on his CV, so is probably ready to win one. He is a 13 time winner world wide so knows how to get the job done and his record is very solid on the tougher courses, witness his fine record at the Memorial ( winner in 2010, runner up in 2008 ) he also has a couple of top ten finishes at Muirfield Village, including one last time out which proves his well being coming in. He actually let things slip a bit there on the final day, that was very un-Justin like and we can expect a return to normal service today, going into that round we spoke about him and I told you he was a very fine "in contention" player. Meaning he has equalled or bettered his starting position in 6 of the last 7 times he has started the final round inside the top 5, he has also been ranked 3-18-15-7 for R4 scoring over the last four seasons, which is almost unheard of consistency ,across such a large number of tournaments. You almost always know what you are going to get from him and Rose has been ranked 10-1-8 on Tour for greens in regulation over the last three seasons, stats which are going to take you close a lot and win you an awful lot of prize money, the putter has let him down a little over short putts this week, which is a concern, but I definitely expect him to contend today. He arrived at Merion very early last week (one of the first), has been meticulous in his preparation and developed a "game plan for the course" which is clearly working.
However, we already have "something" on Rose with our long term bet and if I am being honest, his best price offered is close to my own odds to win the US Open, in my usual 100% book, I am circa 3.80 Mickelson, 6.5 Schwartzel, 9 Mahan, 9 Stricker, 9 Rose, 10 Donald, 12 Day, 30 Horschel, 35 Fowler, 30 the field.
I would be delighted were he to win, but I find my practical side unable to argue that at a best priced 10.0 he offers particular value, but I will probably "waste" a little on him anyway ! But only as a "saver".
I am a little more interested in ...........
The rest of today's R4 preview is restricted to clubgowi newsletter subscribers, in which I gave an outright selection at big odds I am VERY keen on and put up a minimal cover bet on Justin Rose for the reasons outlined above.
If you have any questions about the service, email me at gowi8@btinternet.com .
US Open Golf: Written Thursday 13th June
Hosted at the famous old Merion Golf Club for the first time in 32 years, the second major of the year has been long anticipated, but recent heavy rain has thrown a spanner into the works and it is impossible to really know how the course will hold up until after Round 1. So, just one bet today.
All US Open courses are set up basically the same, with a huge premium on accuracy, with level par or worse, winning five of the last eight Opens, four of those went to overseas players by the way. A repeat of that is attractively priced at 2.20 with Pinnacle, or
I am going to stick to discussing just one of those today in Charl Schwartzel who is a fine player in wet conditions, he shot 61 in Johannesburg in January and led the Memorial after day 1 last time out with an opening 65 on a very tough course. Eventually finishing in a tie for 8th, his 11th top ten finish in his last 16 stroke-play starts worldwide. He is very good opening round player, ranked #6 on tour this year and was #18 in 2012, he shot a R1 68 in 2011 (second best of the day) and finished in a tie for 9th, in 2010 he played four consistent rounds to finish T16 and last year he was top ten after two rounds.
Schwartzel currently ranks 15th on Tour ball-striking, T9 in proximity to the hole and third in adjusted scoring, all stats which should serve him well this week. Given his "liking" for the conditions, ultra consistent form and the fact that he has already won a major and seems sure to shoot lowish today, he has to go well this week.
He seemed in good spirits on his own website last week saying...
"I'm feeling healthy – there are no injuries and my game is in great shape,I've had a good few weeks where it could very easily have turned out my way with some wins. So hopefully it all comes together for the US Open."
"I'm very happy with my game at the moment. My ball striking has been very good for some time now. My short game is in good shape, but obviously you can never work enough on that … especially with the US Open around the corner."
"I've not played it (Merion) yet, but what I've heard is very exciting for me: narrow fairways, a short course – it's going to take a lot of discipline, hitting a lot of irons off tees to put the ball in position; the short stuff will be key."
The South African is circa 30.0 to win, 40.0 to lead after the first round ( which appeals given his R1 record) and a general 3.75-4.0 to finish top ten.
However, Pinnacle Sports have 2.36 for a top 20 finish and pay out on all ties, which is a huge bonus, so if he is tied for 19th with 5-6 others for example, you get a full payout. I have to make this a 1.5 unit bet @ 2.20 +, there is some 2.375 around elsewhere, but they will not pay out on ties, so this is much better, even at 10-15 clicks less.
Good luck.
Don't be selfish, share the betting tips