US Open tennis betting tips.............hunting for value !
Sep 06, 2017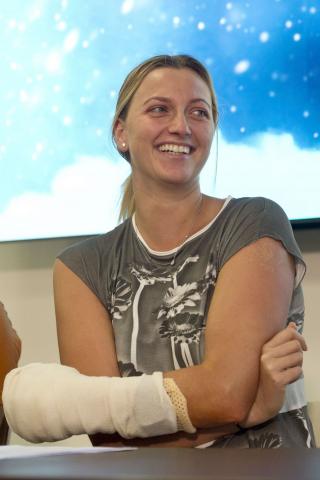 We have been over this so many times before, but it always bears repeating, long term I expect to win, but I am not really looking for "winners", just for value, teams/players that are overpriced, for an "edge" if you will and if you do that in betting and are almost always playing when the odds are in your favour, then you will eventually end up a winner. It is the reverse of playing a fruit machine with a big house percentage, you might win on one spin, or for ten minutes, but if you play long enough, the odds will always catch up with you.
It is no good betting some player or team just because you think they will win without any consideration for the odds, that is stupidity and can only end in tears. I have two tennis previews below, one from Sunday and another taking place later today, they highlight what I am trying to say.  I had no issue with Garbine Muguruza as favourite in the first, but there were reasons to feel she might struggle and giving her opponent just a 31% chance of winning was wrong and tbh, a little insulting. If you had said to me odds are 50/50 pick which side you want, I would probably have opted for Muguruza, but, at the odds offered, I not only had to bet Petra Kvitova, but for my maximum stake !
Kvitova did win in straight sets, but that is not the point, it would still have been the right way to bet regardless of result and that is the mindset you have to get into.
I feel similarly, perhaps not quite as strongly, about the Karolina Pliskova - Coco Vandeweghe match up today and you can read that preview later in this post.  Pliskova is current world #1 and might win this easily, but this morning, before the first serve has been hit, I do not see her chance of winning as greater than 50-55% and probaby at the lower end of that and have, I feel, made a decent argument about why. So I have to bet, I would like to win and hope I do, but it is one bet and doesn't overly matter, there will be many hundreds more and if all carry similar value, I will always make a profit long term .
US Open Tennis: WTA :
Petra

Kvitova

-Garbine Muguruza (written September 3rd)
I opposed Petra
Kvitova
in R3 with Caroline Garcia feeling that she might struggle with her fitness.............
Long time readers know that I loves me some Petra

Kvitova

and we have backed her twice to win Wimbledon and at good/big odds and she has obliged on both occasions. She made a fantastic return from that awful knife attack, winning at Birmingham in June, but it raised false hopes and she has not come close to that level since. I hope she will, but her fitness has not been the best and she cannot close her hand fully and even if that doesn't hinder her ability to grip the racquet, it is an excuse ready made when things start to get away from her and we can all latch onto those too quckly in times of need ! This is the first event in which she has won two matches since Birmingham and I would be delighted were she to go deep, but small steps and this is improvement of sorts and NY has never been her best slam (obviously) and she is 3-3 here in R3, even in peak years PK has only gone beyond R4 once .
Hard to say how wrong that was and
Kvitova
played really well and just kept the pressure up on Garcia. There was something one of the summarisers said that perhaps I had not given that enough consideration to and that was the two day break between matches favouring her so much better, given her issues , on top of which, she looked a little fitter than when we last saw her. She will need to be today of course, but it is all about odds and value and if
Kvitova
plays as well today, i think she has to take Muguruza close.
Kvitova
leads the h2h 2-1 winning the last two and the most recent, at the end of last season, went her way for the loss of only five games and Muguruza only forced one break point and the Czech player will have that stored away to give her confidence for today. I spoke ahead of her Wimbledon final about the Spanish player being a little uncomfortable and having a poor record against fellow tall players.......
Muguruza is 27-14 on the surface and has struggled a lot against fellow tall players, 2-2 on grass versus those who are 1.83m and on all surfaces 7-17 lifetime v opponents that tall, losing 15 of the last 20 and dropping a set in all bar one of those, actually, she has won in two sets just once in those 24 matches.
OK, she won easily, but everything went her way that day and those numbers only improve slightly and would still concern me slightly if I were in her camp, she is 5-10 versus top 20 players who are 1.83m+ tall, losing 5 of the last 6 on this surface and
Kvitova
has to offer value at 3.19 and her chance greater than that 31% implies. I can accept Muguruza as favourite, but by a far narrower margin and in terms of how to play this, my hands are tied ......................
1.75 units Petra

Kvitova

to beat Garbine Muguruza 3.19 Pinnacle/Sportmarket.
Q. How good was that match today? Was that the best match you have played since Birmingham, possibly?
PETRA KVITOVA: I think I played better than in Birmingham today, and the round before. I'm really pleased with the game I showed today. I mean, the serve was pretty working today, especially the shade on center court is a little bit tricky, so you have to work with that, as well, be in the sun or be in the shade.
But I think that I moved pretty well, as well. I knew that it would be tough match. I remember her from the last time. We played in Fed Cup, and she just was really on fire. That's what I tried today, to be more fired up than her.
Karolina Pliskova- Coco Vandeweghe (written today @ 09.45 UK time)
I feel that Coco Vandeweghe was a little fortunate to find her way past Lucie Safarova with the Czech player unable to take advantage of some incredibly good positions she put herself in , after looking the dominant/better palyer for much of the match, certainly the first set and a bit. Having said that, it was a bad match up for Vandeweghe who has a terrible record against lefties ( see Monday's notes) and to come through that and she was very focussed and determined, in what was a huge pressure enviroment, might turn out to be a career changing match.
She has not played world #1 Pliskova on a fast court for 19-20 months, but leads the h2h on those 2-1, they have met subsequently on indoor clay with Pliskova winning 7-6, 6-4, all four matches have been close and been fairly serve dominated with the last three opening sets all going to a tie break and the winner of that then going on to win in two. I doubt either would like their chances of coming from a set down today. The American has averaged 13.33 aces per match in their last three meetings , Pliskova perhaps surprisingly 5.67. They average for the year on Tour 5.5 and 6.69 respectively, so you could make a case for CV serving significantly better and KP a little worse in h2h matches, also , Vandeweghe has kept her double fault issues (4.65 per match this year !) to acceptable levels against Pliskova and in general since Wimbledon and I think her work with Pat Cash is paying dividends, at Wimbledon I spoke about that and her killer shots ......
Despite his excitable reputation,

Pat

Cash

was a very calming influence on the sidelines (

Coco

is outspoken and rarely lets emotions bottle up) and the two have obviously built a close relationship quickly. The Aussie who won here (Wimbledon) 30 years ago (!) believes he has a potential big tournament winner under his care and not just of this slam. It might well be that the extra time they had together without the distraction of playing and freshness edge it has given, might serve them well in week 2 as long as the pair can navigate this week. Much is made of the

Vandeweghe

serve, but her crosscourt forehand is a "killer", with her huge wingspan and extreme grip seeing it accelerate but barely leave the grass after bouncing. When both shots are working she can be unplayable and weaknesses, like fitness and movement have been addressed to a degree and

Cash

is on the case with the only word he was heard to say during the match being "footwork".
She has the game and big shots, it is all about eliminating the errors and keeping those emotions under control. This is her fourth slam quarter final, third of the year and she won the Junior title on these courts, Despite her massive game and number 1 ranking, this is also "just" Pliskova's fourth slam last 8 appearance too, she made the final here 12 months ago, but was 2-3 in NY prior to that, I am not sure she is in quite the same form this year and has not faced a top ranked opponent yet, despite which, she has twice been taken to close three set battles by Zhang and Gibbs.
KP and CV are ranked #1 and #22, but a much closer ,4 and 11 on the Race to Singapore (2017 form) and on what we have seen for much of this year, I do not think there is a huge amount between them right now and that has been borne out in h2h matches.
Vandeweghe has a 39% win rate against top 10 players on fast surfaces, which is decent, but rises to almost 56% when her own ranking is top 50.
Pliskova is 39-51 versus top 20 players ( which we have to consider CV as) and 26-35 in that category in Premier level and above events.
Whatever way we look at it, is is diffult to justify Pliskova as a 61.4% favourite, which is effective what Pinnacle have come up with, if we convert current odds to a 100% book. I would suggest her true odds are somewhere in the 50-55% range and possibly at the lower end, favourite, probably, but the only value is with Vandeweghe and, win or lose, that is all that should concern us.
1.5 units Coco Vandeweghe to beat Karolina Pliskova 2.56 Pinnacle/Sportmarket Pro.
Good Luck
We don't just sell football betting tips, as you can see there is an extensive analysis behind our asian handicap selections. Subscribing to our sports betting advice service need not break the bank. Learn more by visiting our subscriptions page.
Don't be selfish, share the betting tips