WTA: Birmingham tennis betting tip: Dominika Cibulkova- Lucie Safarova
Jun 20, 2017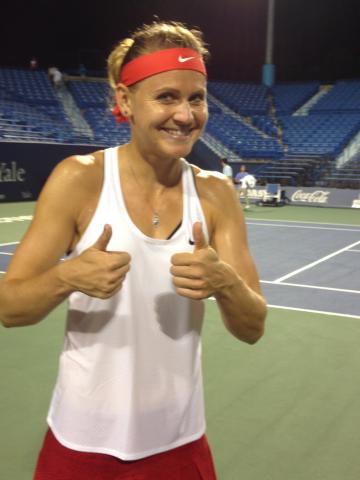 Busy week ahead, with 11 clubgowi subscriber emails scheduled between Wednesday and Sunday. There were four tennis previews today and you can read one below..............
WTA: Birmingham: Dominika Cibulkova- Lucie Safarova
I wrote a lengthy preview of the meeting between these two in Miami back in March and I have highlighted some relevant lines in what I feel were very good notes............
We sided with Lucie Safarova to beat Daria Gavrilova in two on Thursday .................
Class is permanent is an oft used sporting phrase, but a true one and no one is going to convince me that #26 ranked Daria Gavrilova will ever be a better player than #36

Lucie

Safarova

. The now 30 yo

Safarova

has made more comebacks than Frank Sinatra but looks set to launch another and, after a dismal 2016 which saw her win just three matches on hard courts, she already has six to her name this new year and looks primed to start winning tournaments again soon, after her run to the final in Budapest recently and come from behind defeat of Coco Vandeweghe in Indian Wells.
Lovely Lucy had a golden 2015 making the Roland Garros final and also winning two slam doubles titles ,we were with her most of the way in Paris and my notes on an early game there are reproduced below, to provide some background info and just to highlight how very good she can be. We speak often about milestone birthdays and that can be huge, especially in golf and many sportsmen, like the rest of us, can struggle in the build up to this 30th/40th/50th birthdays, but realise once passed, that life goes on and nothing much changes and form can often then improve. There is too little evidence to say that is the same in tennis, but with 30 the new 25 in the sport and careers at the top, witness Lucic-Baroni and the Williams sisters reaching well into mid thirties, why not ! Anyway,

Safarova

turned 30 last month and made a final in her next start.
H2h wise these two are 2-2, with

Safarova

winning the last two on hardcourts in straight sets, I feel that is of extra relevance, as the last came in her poor 2016 at the US Open, where Gavrilova won only 26% of points on return and had just a couple of break points.
Safarova can start slowly on occasion, but seven of her last nine wins and two on the surface against Gavrilova have come in two sets, now, here is the clincher(!), the Aussie has lost 16 matches since Eastbourne last June, ALL in two sets, she has taken a set in only 2 of 20 losses to top 20 ranked players and that is, in effect what Safarova is. Anyway, if our favourite wins, it seems highly likely to come in two .
Safarova dropped just four games there and the same number netxt time out against a coming back to form Ajla Tomljanovic and will be delighted with her form.
I was also impressed with Dominika Cibulkova in her win over Kirsten Flipkens, which I must admit also surprised, she suddenly looked back to her very best and was just so consistent. It is a shame these two have to meet today, as i would doubtless have sided with both against almost anyone . Anyway, Cibulkova leads the h2h 5-2, including 2-1 on hard courts, but the two most recent meetings are split 1-1 and both went the distance.
 
Safarova

is 30-16 lifetime on the surface v players under 1.67m and DC is 17-23 verses lefties, with 3 of the last 4 going the distance and having lost at least one set in 6 of 8. I definitely favour

Safarova

to take a set today, but have to admit to being torn between this going the distance or her to win and both offer value IMO
. 
First set was close, but Safarova ran away with things after that, winning 7-6 6-1 and taking 51% of points on return. Since then Cibulkova is 2-4 and has looked a pale imitation of her 2016 self in what was a golden year for her with 52 wins, two more than she managed in the previous two seasons combined. Cibulkova also got married last year and is maybe just drained, she lost to Ons Jabeur (#109) at Roland Garros and to Antonia Lottner (#180) on her only start on grass since, I watched the latter and she is just not the old DC and her body language was not good at all and we are talking about a usually very positive player. Safarova played four three set matches at Nottingham last week, she was very hit and miss, even mid match and dropped a set 6-1 and 6-0 to both Pironkova and Hsieh before coming through, eventually losing to champion Donna Vekic in the semis in 35 games, losing two tie breaks. I make her a good favourite today and whilst the big set losses last week are a concern with this bet, I saw nothing like as negative as I did with Cibulkova and it has to be ............
1.5 units Lucie Safarova -1.5 games 2.08 Pinnacle/Sportmarket Pro.
 
Good Luck.
WTA: Garbine Muguruza-

Lucie

Safarova
(written June 2nd 2015)
Both players have won for us at Roland Garros, ahead of
Lucie
Safarova
's fine win over Maria Sharapova yesterday I wrote ....
Surprisingly, as they are the same age, these two have not met much, just five times,

Safarova

won the first on the "non-clay" clay of Madrid, Sharapova the other four, the last three have all gone the distance, two were on clay ( one indoor) the last of those was in Stuttgart last year and decided by three tie breakers.

Safarova

has always promised a deep run here, on what she claims is her favourite surface, but has always played well just before, or immediately after , yet never brought her A game to Paris. She has shown signs that it is close this time and on song she has a devastating return and strong serve, she will make errors, her game is very much hit and miss, but she has appeared to have that under control at present and the unforced errors at RG have been minimal. Sharapova spoke about the "problem" of playing left handed opponents in her post Stosur interview and I doubt she is looking forward to today too much. Five of her last 8 matches against top 20 lefties on clay have gone the distance and 8 of Masha's last 11 on all surfaces have gone to a third set
. 
We took Garbine Muguruza to beat Angelique Kerber last week....
Garbine Muguruza had a breakthrough run to the quarter finals here last year, beating Serena Williams for the loss of only four games and taking eventutal champion Maria Sharapova to the brink, winning the first set 6-1 and losing the second 7-5. She has built on that and has been ranked top 20 for singles and top 10 for doubles in 2015. Ahead of her match with Masha I wrote ....
I also see this one being closer than the handicap lines suggest. The two have met just once previously and that came in Rome, but in 2013, so 13 months ago. Garbine Muguruza has improved since then and I doubt Maria Sharapova can serve anywhere close to her level of that day ( 81% of first serves won, 69% of second), when she was simply on fire. Masha's serve can be devastating at times, but she always totters on the edge and when she topples over, it can go terribly wrong. She was in trouble against Sam Stosur in R4 and her achilles heel, the second serve, was not working for a set and a half.
In the first meeting, she beat Muguruza by eight games, her serve was electric and she just cannot be at that level today, we have seen no evidence of it and it is unlikely in the extreme anyway. Plus, the Spanish player is much improved and showed no nerves in seeing off Serena Williams in R2 , or subsequently, that win gave her great confidence and she is yet to drop a set at RG. Still only 20 yo she is improving on a month by month basis and is a big hitter and tactically sound, she cut out the angles for Serena, thumping calls to centre court and that tactic can work equally well today, especially if she can mix that up by trying to draw Masha off the baseline, with the Russian only really happy with straight side to side play and out of her comfort zone in any other direction.

The 21 yo again had Serena in trouble at the Australian Open in January and we saw in both meetings with the best player of modern times and against Sharapova, that Muguruza can not only hit with the best, but she is tactically very sound and a fast starter. She is 0-3 lifetime against Kerber, but in the last meeting, which came in Sydney this year, she took the first set 6-0 and won a lot of cheap points, just coming unstuck eventually when her second serve went missing against the wily Kerber. The German player is very solid and improved on clay, but this is far and away her worst surface and she is 1-3 here in Paris v top 20 and 5-6 against top 50 ranked players and most of those she beat either never really made the breakthrough or were past their sell by date, she is also 2-6 over the last two seasons against players who are 1.82m +. Muguruza also made the semis in doubles here last season, looks to have refound her form in time to defend a lot of ranking points and clearly has positive mental memories and feels comfortable in Paris.
 
Both have impressed, but I was really taken with Safarova, not just her win, but how she celebrated afterwards, pleased, but very composed and you just get the feeling that she has big ambitions for the rest of this week. Muguruza had a lot of points to defend here at RG and has been under pressure to do so, sometimes, once you have achieved a target, you can feel like it is job done and subconsciously, at least, switch off. She had never played a leftie of any sort on clay before Kerber, but the German is not a true claycourter IMO and this will be a far sterner test. Unlike a lot of players, Safarova has a very good record against taller girls, especially over the last 18 months or so and has won her last seven without dropping a single set and there are some very big names and not just Sharapova on that list.
We don't just sell football betting tips, as you can see there is an extensive analysis behind our asian handicap selections. Subscribing to our sports betting advice service need not break the bank. Learn more by visiting our subscriptions page.
Don't be selfish, share the betting tips