Ligue 2 betting tip: Racing Club Lens- Stade Laval
May 01, 2017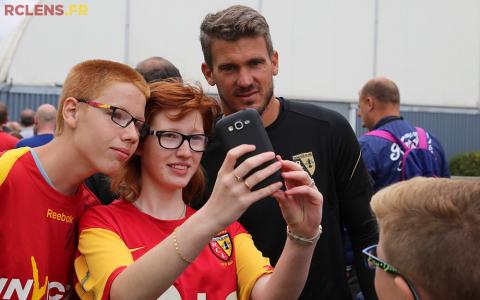 Ligue 2: Racing Club Lens- Stade Laval
Last Monday, ahead of a trip to Le Havre, my detailed notes included Lens huge support, their failure to get the job done in recent home games, but strong away form..........
 
Lens

like to make things difficult for themselves and have lost their last two home games in a stadium where they have incredible support, but have won three in a row on the road, scoring 11 goals in the process ! Maybe the pressure at the
Stade Bollaert-Delelisis just a little too intense, the stadium holds some 7,000 more than the population of the city and home crowds are regularly bigger than the number who actually live in

Lens

, they draw support from the entire area and that brings with it additional responsibility and pressure. It can also bring plenty of positives too and their supporters have taken over a lot of away grounds in the past to give their team an edge and there was huge fan presence at the training sessions last week, 600 + attended on Friday just to give backing to their team ahead of this game and it gave a real lift to those sessions.
The first of those three aforementioned away wins came at Red Star early last month
.....................That support helped drag them over the line and they again came from behind to win 3-2, following up with a 2-0 win at Reims and 6-3 victory in a wild encounter at Ajaccio and this is a team you would favour in a shoot out, but too few teams travel to

Lens

happy to play ball and with that minset and that is probably why they have collected more points on the road. They are 4th in the table and a point would take them into third and that playoff spot, but all three points would see them within one of an automatic spot and with three of their remaining games coming at home after tonight, that seems worth the gamble, regardless of that dip in form in their own stadium.
They put in a very lethargic performance and got what they deserved losing 1-0. All is not lost yet and they would move third and into the playoff spot with the win and just a point behind Brest in second who lost at the weekend. Lens have four games to play and three, starting tonight are at home, if they can just recover that spark here and as always, supporters will do their part and as of last Thursday 24,000 tickets had already been sold for tonight's game, they have a great opportunity to claim a top 2 spot. But they are going to have to up the tempo and find a spark. They are without three regulars tonight in former Brentford player John Bostock, Dusan Cvetinovic and Abdelrafik Gerard, defensively that changes nothing and I assume they will set up more like recent away games with a 4-2-3-1 and only Gerard played in the 6-3 win at Ajaccio, not ideal, but far from a disaster.
Laval arrive bottom of Ligue 2, 7 points from the playoff position and nine from safety.  With only 12 to play for, that should ensure they come with three points as their only objective and eventually they will have to open up and they have not scored in their four away starts against top 6 teams so far and arrive today without Mana Dembele and Yoane Wissa who have made a (relatively) big recent offensive contribution in a team where there is little of that to spare. To be honest, I am less concerned about team news than who wants this more and I have to think that is Lens , with their massive support behind them and knowing that matters are still in their own hands. If they can rediscover those home comforts they will be in good shape and such is the perverse nature of football that is likely to come after they finally drop points on the road. This is Laval's first Monday night fixture in over 18 months, it is Lens' 10th of the season and they have a 5-1-1 record at home in MNF.
Lens have a first half home goal difference of -5, they are +10 after the break and it is clear when they do the damage, Laval have conceded 62% of road goals in the last 30 minutes of games and in all starts, they have a -11 goal difference in the final 15 minutes and do not see games out well.
Lens have led at HT in just one of 16 home starts, they have gone in level in 10 and have yet to lose one of those, Laval are 4-10-3 on the road in the opening 45 minutes, "losing" the fewest in L2, which is very odd, but is playing to their strength ( men behind the ball), when games get stretched or they tire, there is not much, or anything at all by way of Plan B (lost 10/17 second half's).
Draw HT-Lens FT is priced at circa 4.0-4.33 and offers obvious value (0.75 units) .
Lens are likely winners but there seems no value in betting them pre match at -1 ball 2.12 given how this is set to play out. 1.25 units Lens -0.75 ball when the "in running" quote reaches odds of 2.10 + as long as they are not already leading and we are still playing 11 v 11.
Along the same theme, Lens in the last 15 minutes, especially if Laval are chasing could be another good option and odds will be high.
 
Laval : Cappone, Hautbois – Perrot, Quintin, Afougou, Mabussi, Glombard – Alla, Coutadeur, Malonga, Bayard, Moyo, Dembele– Nsikulu, Saint-Louis, Viale.
Good Luck.
We don't just sell football betting tips, as you can see there is an extensive analysis behind our asian handicap selections. Subscribing to our sports betting advice service need not break the bank. Learn more by visiting our subscriptions page.
Don't be selfish, share the betting tips