NFL betting tip: Buffalo Bills @ New York Jets
Nov 02, 2017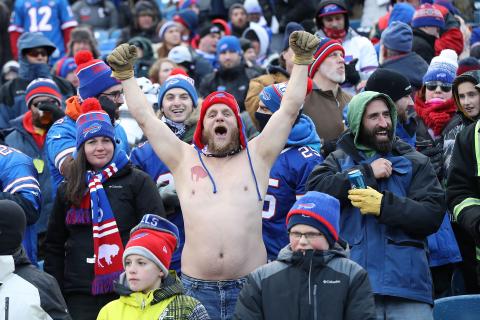 NFL: Buffalo Bills @ New York Jets
I spoke about how the Jets were supposed to struggle this year ahead of their Week 5 meeting with the woeful Cleveland Browns .................
Both teams were expected to struggle to get 3-5 wins this season, Browns have kept up their end of the bargain and are 0-4 and coming off a 31-7 home loss to a divisional rival who were themselves 0-3 going into that meeting. Rookie QB DeShone Kizer has only made headlines for the wrong reasons and has just three touchdowns, but 8 interceptions , 3 fumbles and a QB rating of 40.3 across his last three starts.
Jets

are amazingly 2-2, winning both home games, but shipping 66 points in two on the road, they tried to shoot themselves in the foot late last week and made a good attempt at blowing a 10 point 4th quarter lead (they should have done) to a Jaguars team who left their heart in London, but managed to get the job done in overtime. Perhaps a little cockiness has slipped in and they posted an insulting twitter post about the Browns on Friday, it was removed after an hour, but had already been seen by everyone and if Cleveland needed further motivation, that provided it.
Both teams are building for the future, NYJ seemingly for 2018 and the Browns for 2019 , the

Jets

will be buoyed by what they have seen so far and the chance to be a winning team for a week , Cleveland need a sign they are at least moving in the right direction and this is a huge game for Kizer, you don't get long in the NFL to prove yourself and people are already starting to write him off, just four games into his career.  He should be able to keep the

Jets

guessing today with the visitors struggling to stop the run ( allowing 175-190 yards on the ground in three of four starts) and Crowell and Johnson giving Cleveland good options on the ground, that might just give Kizer a little more time in the pocket where he has not been making good decisions. The two teams met here in Week 9 last year, Browns were 0-8,

Jets

3-5, it was a shootout with Cleveland leading 20-7 at the half,

Jets

"winning" the last two quarters 24-8, a game of two halves . I see this similarly and with the total set at circa 40 and the

Jets

already giving up 33 pg on the road, that seems to contain all the value.
Jets won 17-14, Browns had the ball three times inside the Jet 4 yard line and did not score a point, oh my goodness ! That is as close to impossible as it is possible to be, one recovered fumble, one interception, one first and ten from the 12 yard line which came up short on 4th down , they also missed two additional short field goals.................the Browns not only shot themselves in the foot, they loaded the gun, aimed it for the Jets and took their shoes and socks off !  Cleveland should have scored a minimum 13 extra points , won the game and seen the "over" covered and yes, I still feel a little bitter and angry ! Anyway, Cleveland have continued on their merry way since and are 0-8 for the campaign, they have only once scored more than 18 points, but should have sailed to 30 versus the Jets.
NY have lost three subsequently to the Patriots by 7 , Dolphins by 3 and Falcons by 5, all close and two against strong teams and those results and even a 3-5 record look ok, promising for next season if you will, but I think quite a lot has gone their way and they could,perhaps should, be 1-7 and to be honest, no one would have been surprised by that, they are a bit better than expected and have overachieved to win three , but I think results are flattering and stats for many players do not tally with results/final scores.
Now they have their second divisional meeting with the Bills, they lost the first in Buffalo on Gameday 1 by a 21-12 scoreline. Jets quarterback Josh McCown was intercepted twice, did not throw a touchdown and NY had only 38 yards on the ground, where the Bills had 190 of running offense, 110 on 22 carries from LeSean McCoy, but the offense was balanced and they also had two touchdowns and 224 yards from the passing attack. McCoy has asked for the ball more and more, says he wants it 30 times and he was said to have looked incredible good in practice prior to last weeks game against the Raiders and he got his wish (almost), 27 carries for 151 yards. The 29yo had over 1,600 yards in 2013 and openly stated he feels in exactly that kind of shape again and looked it last week. Jets are 27th against the run, I don't think they can stop McCoy or the Bills on the ground and that is going to make thing much easier for Buffalo QB Tyrod Taylor, who after being sacked 18 times in his first five starts this season, has only suffered one in his last two combined and offensively, it feels like it is all coming together for Buffalo and they look a much better team than the one which was all over the Jets for most of the first game.
Defensively the Jets will be short handed and look there for the taking . Bills can go 6-2 with the win, which would be their best start since 1993, it would more importantly take then joint top of their division with the Patriots whom they do not meet until (twice) in December, so the opportunity to dream until then, it would also leave them tied with also the Chiefs and Steelers as the best team in the AFC, with the quartet two wins better than anyone else , all would be in prime position for a playoff wildcard spot as a "minimum". Bills by 7 + points.
1.75 units Buffalo Bills -4 points 2.21 Pinnacle/Vegas Line/Sportmarket Pro.
Good Luck.
We don't just sell football betting tips, as you can see there is an extensive analysis behind our asian handicap selections. Subscribing to our sports betting advice service need not break the bank. Learn more by visiting our subscriptions page.
Don't be selfish, share the betting tips